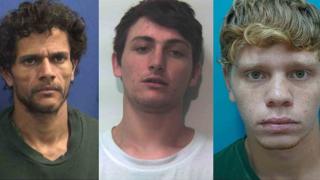 Australian police are searching for three men who escaped from a jail amid what prison staff have called "a riot".
A total of 10 inmates escaped Greenough Regional Prison, 400 km (250 miles) north of Perth, late on Tuesday, police said. Seven have since been recaptured.
The men had scaled a fence during a disturbance at the jail that involved the lighting of fires, officials said.
Authorities warned the public to treat the escapees as "unpredictable" and potentially violent.
Police did not say why fugitives Bradley Silvester, Darryl Councillor and Brendan Bartley had been in prison, but all were classified as medium security inmates.
"[The disturbance] started with a cell fire and then there were a couple of other fires lit in the prison," Corrective Services Commissioner Tony Hassall told The West Australian newspaper.
"They broke into some staff offices, got some equipment and used that to cause some damage."
He said inmates had also assaulted prison officers with unidentified equipment. According to the officers' union, three guards were attacked with chemical spray.
"Our members are describing the incident as a riot," union secretary Paul Ledingham told the Australian Broadcasting Corp.
"Reports this morning are there is extensive, extensive damage within the prison."
More than 150 extra police officers have been deployed to the region to help track down the escapees, who are believed to be in the area.
Western Australia Premier Mark McGowan called it a "very dangerous and very fluid situation."
Locals were sent late-night warning alerts after the breakout, warning them to keep their homes and cars locked.
Authorities did not say what sparked the disturbance. Union officials have alleged that the jail is overcrowded, with "unsustainable" levels of staffing.