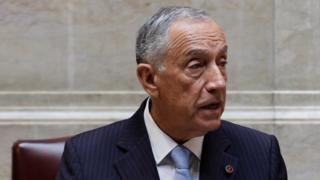 Portugal's President Marcelo Rebelo de Sousa has vetoed a law that would make it easier for people to change their legal gender.
The law was approved by parliament last month, but needed to be signed by the president to take effect.
It would have allowed citizens to change their gender and name in documents from the age of 16 without the need for a medical report.
Mr Rebelo de Sousa asked parliament to consider raising the minimum age to 18.
In a statement posted on the presidential website (in Portuguese), he called for "the provision of prior medical evaluation for citizens under 18 years of age".
He said that if there is a possibility that the individual will undergo gender reassignment surgery then it would be "sensible" to seek a medical opinion.
Parliament can now amend the law in line with the president's suggestions.
Under the proposed law, those aged between 16 and 18 would need to have the change of gender approved by their parents or legal representatives.
Currently, those wanting to change their gender on official documents have to present a medical report and be at least 18 years old.
The new law was approved on 13 April by 109 votes in the country's 230-seat parliament, and lawmakers celebrated with a standing ovation.
Activists welcomed the "groundbreaking" law, saying it respected the right of self-determination.
But critics opposed allowing changes without a medical report and lowering the minimum age.
In the UK, individuals need to be 18 years old to require a legal change of their gender, a process that can take up to five years and requires a diagnosis of gender dysphoria from a psychiatrist.