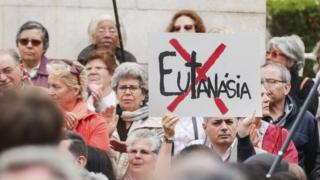 Portugal's parliament is debating and will vote on whether to make euthanasia legal in the country.
The country's culture is traditionally Catholic and conservative, and the issue is dividing many in the country.
The Portugal's centre-left Socialist government wants to make the practice legal, but with special conditions.
The result of the vote on the proposals is uncertain and is likely to be a close run affair.
The proposals pit left-leaning parties in the parliament against the Catholic Church and traditional authority.
Protests have convened by anti-abortion groups in the country's capital, Lisbon.
Portuguese journalist Filipe d'Avillez said the numbers at the protests had been increasing.
Patient-requested euthanasia is legal in Belgium, the Netherlands and Luxembourg in the EU.
Outside Europe, the practice is available in Canada, Colombia, and the Australian state of Victoria.
The country's parliament is divided on the issue, with four potential options being put before it, offering various options for euthanasia.
The proposals that have been put forward include a bill from the Left Bloc that would legalise the practice in "anticipation of death".
Plans put forward by the Green Party and the Party of Animals and Nature speak of "medically assisted" death and suicide.
Portugal's government is a minority administration, meaning that the centre-left Labour Party is backed-up by the Greens and far-left groups.
There has been some speculation that any bill passed by the parliament could be struck down by the country's conservative President, Marcelo Rebelo de Sousa, who is a practising Catholic.
But Socialist MP Pedro Delgado Alves told the AFP news agency that such talk was "premature" and that the result was "uncertain."
Earlier on this month, Mr Rebelo de Sousa vetoed a law that would have made it easier for people to change their gender and name in documents.