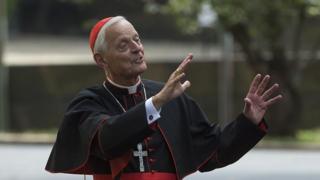 Pope Francis has accepted the resignation of Washington DC archbishop Donald Wuerl, who has been criticised for his handling of sexual abuse cases.
Cardinal Wuerl had offered to resign when he reached 75 in 2015, but the Pope did not take up the resignation.
Cardinal Wuerl was recently criticised in a report on sexual abuse cases when he was bishop of Pittsburgh and admitted to lapses in judgement.
The report said he had allowed accused priests to be reassigned or reinstated.
Cardinal Wuerl said in a statement: "The Holy Father's decision to provide new leadership to the Archdiocese can allow all of the faithful clergy, religious and lay, to focus on healing and the future.
"It permits this local Church to move forward. Once again for any past errors in judgment I apologise and ask for pardon."
Donald Wuerl will reportedly retain his title of cardinal and continue in his role until a successor is found.
The Archdiocese of Washington released a letter in which Pope Francis praises Cardinal Wuerl for not trying to justify his actions in the handling of sexual abuse cases even though he had sufficient evidence to do so.
"Your nobility has led you not to choose this way of defence. Of this, I am proud and thank you," Pope Francis says in the letter.
Bishops are asked to submit their resignation at 75, but continue in their role until the Pope chooses to accept it.
Allegations of sexual abuse by Catholic clergy worldwide continue to affect the Church.
In August, the Pennsylvania Supreme Court released a grand jury report detailing sexual abuse. It named over 300 accused Catholic clergymen.
The investigation found more than 1,000 children had been abused by members of six dioceses in the state over 70 years.
Officials said the probe found systematic cover-ups by the Church of victims that included young boys and girls, as well as teenagers.
The report criticised Cardinal Wuerl for his role in concealing the abuse.
In July, Cardinal Theodore McCarrick, a former Washington DC archbishop and a high-profile Catholic leader, resigned amid allegations that he sexually abused children and adults for decades.
Cardinal Wuerl replaced Cardinal McCarrick as Washington's archbishop after he retired in 2006.