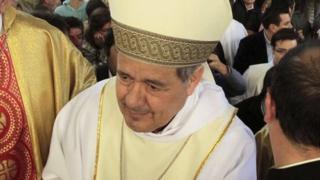 Pope Francis has accepted the resignation of three Chilean bishops, including the controversial Juan Barros, in the wake of a child sexual abuse scandal.
Bishop Barros was accused of covering up sexual abuse committed by a priest in the 1980s and 1990s.
Pope Francis has said that he made "grave mistakes" by originally defending Bishop Barros.
All of Chile's 34 Roman Catholic bishops had offered their resignations.
The decision by the Pope to accept the resignation of three of the 34 was announced in a statement issued by the Vatican on Monday.
Apart from Bishop Barros of Osorno, Archbishop Cristián Caro Cordero of Puerto Montt and Bishop Gonzalo Duarte García de Cortázar of Valparaíso will now be replaced.
It was not clear if the move meant that the remaining 31 resignations would not be accepted.
Pope Francis became involved in the scandal surrounding Juan Barros when he defended the bishop during his visit to Chile in January. At the time he said that allegations against the bishop amounted to "slander".
"The day I see proof against Bishop Barros, then I will talk. There is not a single piece of evidence against him. It is all slander. Is that clear?" the Pope had said at the time.
He later apologised to victims, saying: "I apologise to them if I hurt them without realising it, but it was a wound that I inflicted without meaning to."
The installation of Juan Barros as bishop of the southern city of Osorno in 2015 met with stiff resistance.
More than 1,000 people wrote to Pope Francis asking him to review the appointment and hundreds showed up at the bishop's installation ceremony in protest.
They accused Bishop Barros of using his position in the Church to cover up the actions of his mentor, Fr Fernando Karadima, who was found guilty by the Vatican of sexually abusing children.
Victims of Fernando Karadima said Juan Barros had been present when the priest had abused them. Bishop Barros denies any wrongdoing.
One of the victims, Juan Carlos Cruz, told Chilean radio that by accepting the resignations, Pope Francis had "sent a message to the world that this culture of abuse and cover-up won't be tolerated any longer".
The Pope's move comes after he received two groups of victims of Fernando Karadima at the Vatican.
About 80 Roman Catholic priests have been reported to authorities in Chile for alleged sexual abuse over the past 18 years.
Under Pope Francis, a Vatican committee has been set up to fight sexual abuse and help victims.