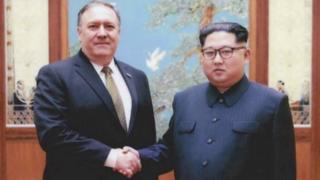 US Secretary of State Mike Pompeo is visiting Pyongyang ahead of a landmark meeting between North Korean leader Kim Jong-un and President Donald Trump.
Mr Pompeo said he hoped to finalise plans for talks on the denuclearisation of the Korean peninsula.
He also said he hoped North Korea would "do the right thing" and release three US citizens detained in the country.
It is Mr Pompeo's second trip to Pyongyang after a meeting with Mr Kim last month while he was CIA director.
He later said that a "good relationship" was formed at the meeting in April, which marked the highest level US contact with North Korea since 2000.
On Tuesday, Mr Pompeo said the release of three imprisoned Americans held in North Korea would be "a great gesture".
"We've been asking for the release of these detainees for 17 months," he said.
A State Department official travelling with Mr Pompeo said the US would also be "listening for signs from North Korea that things have substantially changed" with the nation's nuclear ambitions.
Mr Trump also referred to Mr Pompeo's latest visit while announcing that the US was withdrawing from an Obama-era nuclear agreement with Iran.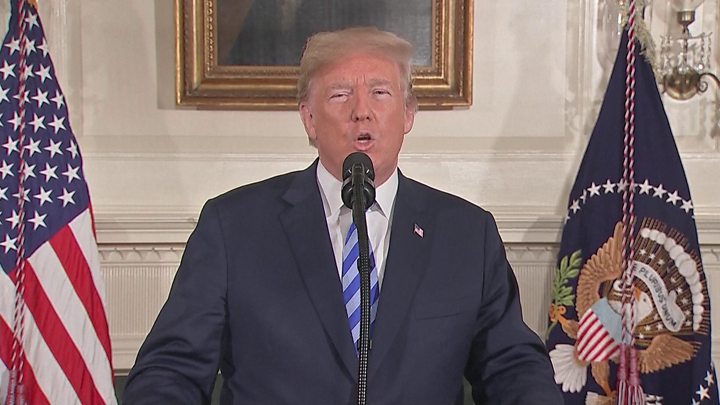 "We think relationships are building with North Korea," the president said.
Speaking of his forthcoming meeting with Mr Kim, Mr Trump said: "We have our meeting set. The location is picked. The time and date, everything is picked."
He added: "We will see how it all works out. Maybe it won't. But it can be a great thing for North Korea, South Korea and the entire world."
In April, Mr Trump stunned the international community by accepting Pyongyang's suggestion for direct talks – it will be an unprecedented move for a sitting US president to meet a North Korean leader.
He said the summit would take place either in early June or "a little before that" and that several sites were under consideration but that none of them were in the US.
Mr Trump's comments on Tuesday follow an earlier confirmation that Mr Kim had made a second trip to China to meet President Xi Jinping ahead of the summit with the US president.
Chinese media quoted Mr Kim as saying he hoped "phased and synchronised" measures would be taken to realise denuclearisation on the Korean peninsula.