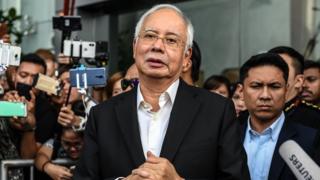 Malaysian police uncovered $28.6m (£21.3m) in cash stuffed in bags during a search of several apartments linked to ousted leader Najib Razak.
Police also seized luxury handbags, watches and jewellery.
The raids were related to an investigation into state development fund 1MDB.
Billions of dollars are unaccounted for from the fund. Mr Najib himself allegedly pocketed $700m, a claim he has always denied.
'You eat our money, we eat your chocs'
The money was seized along with 284 boxes containing designer handbags, as well as watches and jewellery in raids last week.
Police searched three apartments in the Malaysian capital of Kuala Lumpur. Mr Najib's son and daughter were living in two of the apartments, while the third was unoccupied.
Amar Singh, the head of Malaysia's commercial crime division, told reporters the money was found in 35 bags, while another 37 bags contained watches and jewellery. The value of those will be calculated later, he said.
Last week Mr Najib's lawyer Harpal Singh Grewal said his client was "very unhappy" with the raids.
The ex-PM also complained that officers who combed his properties had helped themselves to food and chocolates – sparking an online campaign which saw social media users offer to deliver chocolates to police stations in Malaysia.
"You eat our money. We eat your chocs," said one user on Twitter, a reference to allegations that Mr Najib had stolen 1MDB money.
Corruption claims
Mr Najib has long faced accusations of corruption and mismanagement over the state investment fund 1Malaysia Development Berhad (1MDB), which he set up in 2009.
The fund was meant to turn Kuala Lumpur into a financial hub and boost the economy through strategic investments.
But it started to attract negative attention in early 2015 after it missed payments for some of the $11bn it owed to banks and bondholders.
The Wall Street Journal then reported it had seen a paper trail that allegedly traced close to $700m from the fund to Mr Najib's personal bank accounts.
Mr Najib has consistently denied taking money from 1MDB or any public funds.
He was cleared by local authorities of all charges, but fresh investigations into the case have begun following the election of Prime Minister Mahathir Mohamad, who has said he would seek the return of millions of dollars lost in the scandal.