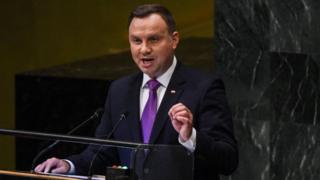 Poland's President Andrzej Duda has appointed 27 new Supreme Court judges, despite internal and European Union pressure not do so.
The European Commission has referred Poland to the European Court of Justice over its judiciary policies.
Earlier this year the government lowered the retirement age of judges, forcing many to retire.
Opponents say the move aims to appoint favourable replacements, undermining democracy and judicial independence.
The country's governing Law and Justice party (PiS) said the legal change, which forces judges to step down at 65 instead of 70, was necessary to rid the court of communist-era judges and improve the court's efficiency.
The new judges will work in the top court's Civil Law and Criminal Law Chambers as well as its newly created Chamber of Extraordinary Supervision, according to Polish public broadcast reports.
The Associated Press report members of the media were not allowed to witness the ceremony.
Speaking on Wednesday, the president's top aide defended the government's appointments.
"We are implementing another stage of the reform of the justice system that is so important to us," Pawel Mucha said.
"We are acting in the public interest. We are restoring trust in the justice system."
What is the court row about?
The EU has long-feuded with the country's government over its judiciary policy, first raising concerns when PiS came to power in 2015.
In December 2017 the European Commission initiated disciplinary proceedings against Poland invoking a rule called Article 7, citing "systemic threats" to the rule of law amid their changes.
It was the first time the body invoked the rule, but in the months since Hungary has also faced censure under it.
The two countries, who both have right-wing governments, have vowed to support each other. They accuse the EU of trying to interfere politically in their domestic matters.
Despite being referred the European Court of Justice (ECJ) over the rule, Poland pushed ahead the retirement age change which meant 27 of the court's 72 judges were forced to leave before the end of their terms.
Speaking last week, President Duda said he was "waiting calmly" for the ECJ ruling on the reforms.
The court's 65-year-old former Chief Justice Malgorzata Gersdorf labelled the move a "purge" and returned to work in defiance of the law, flanked by supporters.
A small group of protesters shouted "traitors" at the nominees as they entered the presidential palace on Wednesday.