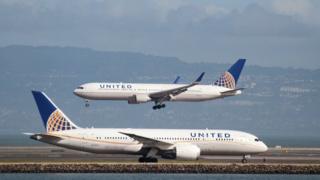 A transatlantic flight has been diverted to Shannon Airport in Ireland, after what is understood to be a bomb threat was found inside the plane.
United Airlines said flight UA971, from Rome to Chicago, had been diverted due to a "potential security concern".
Irish police have confirmed a message was found inside the plane.
There are reports in Irish media that it was found in a toilet and handwriting samples have been gathered from passengers.
The 207 passengers and 11 crew members disembarked the Boeing 767-330 at Shannon in County Clare at about 14:15 local time.
In a statement, United Airlines said: "After assessing the situation our crew made the decision to divert to the nearest available airport.
"Additional security screenings will be performed on all customers and baggage, and we will work to get customers on their way to Chicago as quickly as possible."