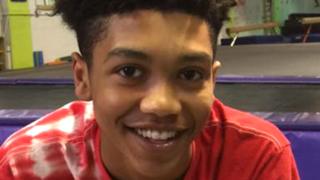 A police officer who fatally shot a teenager in the back in the US state of Pennsylvania had been sworn in for duty just moments earlier, US media report.
Antwon Rose, 17, was shot on Tuesday evening when he ran from police who stopped the car he was travelling in over an earlier incident, police say.
Rose, who was African-American, later died in hospital from his injuries.
The East Pittsburgh officer involved was reportedly sworn in to police duty just 90 minutes before the incident.
Rose was the passenger of a vehicle that matched the description of a car sought in connection with a shooting in a nearby community on Tuesday, police said.
When the driver was stopped and ordered out of the car, Rose and a second unidentified passenger "bolted", leading to the response of the East Pittsburgh officer, they added.
The driver was questioned but later released.
Pittsburgh's KDKA-TV reported that the officer who shot Rose was in his 20s and had been sworn in to active duty just moments before the incident occurred.
He had, however, been employed as an officer in the region since 2011, although it is not clear in what capacity.
Allegheny County Police Superintendent Coleman McDonough said his detectives were now providing an independent investigation into the incident "in accordance with police best practices in the aftermath of officer-involved shootings".
"That officer has the same rights as any other citizen," Mr McDonough said, adding that the officer had been placed on administrative leave until the investigation had concluded.
Mr McDonough said the officers were not wearing body cameras at the time.
On Wednesday, protests took place in East Pittsburgh, where Rose's shooting had occurred.
The use of deadly force is permitted in Pennsylvania when an officer believes that such action is necessary to prevent death or serious bodily injury to him or herself or others.