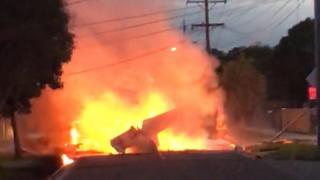 A light aircraft crash in a tree-lined suburban street near Melbourne, Australia has left its pilot dead.
The plane crashed in the suburb of Mordialloc, about 25km from the centre of Australia's second city.
No-one other the pilot was hurt by the crash, police said.
A trail of fire on the road near the burning wreckage could be seen, eyewitnesses reported. According to local police, overhead power cables were brought down by the crash.
The crash on Mordialloc's Scarlet Street occurred less than 1km (0.62 miles) from a small airfield.
The plane was a single-engine Cessna 172 aircraft, the Australian Transport Safety Bureau said on Twitter.
It said it was conducting an investigation into the cause of the crash.
"One person is confirmed deceased inside the aircraft, believed to be the only occupant. There are no reports of any other injuries," police officer Belinda Batty said in a statement to the Reuters news agency.