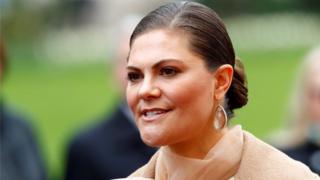 The man at the centre of a sexual abuse scandal at the Swedish Academy – the body that awards the Nobel Prize in Literature – has been accused of groping the heir to the Swedish throne.
French photographer Jean-Claude Arnault denies groping Crown Princess Victoria at an Academy event in 2006.
It follows a report in the Svenska Dagbladet newspaper that quoted three people who said they saw the incident.
One witness said an aide had forcibly removed Mr Arnault's hand.
"Her female aide, it was really something to see, threw herself forward and pushed him away," Ebba Witt-Brattström told the Expressen newspaper.
The Royal Family has not commented on the incident, but issued a general statement expressing support for the #MeToo campaign.
Mr Arnault, the husband of a former Academy member, has faced numerous allegations of sexual misconduct which he denies.
The scandal has sparked a wave of resignations in the Academy, raising major questions about whether it will be able to award the Nobel prize later this year.
Why is the Swedish Academy in crisis?
The organisation has been criticised for its handling of a probe into the alleged sexual misconduct of Mr Arnault, who is married to former Academy member Katarina Frostenson.
Last November, inspired by the #MeToo campaign, 18 women made allegations of sexual assault and harassment against him. Several of the alleged incidents reportedly happened in properties belonging to the Academy.
The organisation then voted against removing Ms Frostenson from its 18-person committee. This sparked resignations from three of its members – Klas Ostergren, Kjell Espmark and Peter Englund.
Technically they cannot resign from their positions, which are for life, but they can stop participating in the Academy's activities.
Soon afterwards the head of the Academy, Professor Sara Danius, stepped down. "It has already affected the Nobel Prize quite severely and that is quite a big problem," she said at the time.
In total, six members have quit the committee since the first allegations were made.
What will happen now?
That is not clear, but the wave of resignations has raised questions about whether the Nobel Prize for Literature will be awarded later this year.
The remaining 11 members have reportedly discussed cancelling the prize, which is voted on and awarded in October.
A member of the Academy, Per Wästberg, told the Guardian newspaper on Friday that the award may be postponed.
"There will most probably be a statement on whether we will award a prize this year or reserve it for next year, in which case two prizes for literature will be announced in October 2019," he said.
A decision is expected on Thursday. If the prize is cancelled it would be the first time since World War Two that the Academy has failed to award a Nobel Prize for Literature.