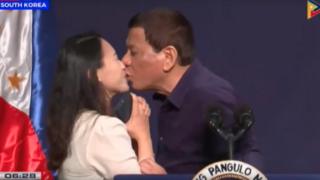 Philippine President Rodrigo Duterte has drawn criticism for kissing an overseas Filipina worker on the lips during a live event.
Mr Duterte was speaking to a crowd in South Korea when he called the woman on stage then convinced her to kiss him.
The scene drew cheers from the crowd, mostly made of up other Philippine workers.
But it was described as "disgusting theatrics of a misogynist president" by Philippines rights group Gabriela.
It is not the first time Mr Duterte has been accused of inappropriate behaviour towards women.
A history of misogyny
The controversial incident took place when Mr Duterte was speaking to a crowd of overseas Filipino workers (OFWs) in Seoul.
Two Philippine women were invited to join the president on stage to receive a free copy of a book, and were visibly star struck standing next to Mr Duterte.
He hugged the first and gave her a kiss on the cheek before gesturing the second woman to kiss him on the lips.
After a protracted back and forth, with nervous laughter from the young woman and repeated gestures by Mr Duterte, the president eventually leaned in to kiss the woman on the lips.
While the young woman was laughing and the crowd cheering, comments on the internet were a lot more critical.
Mr Duterte has sparked outrage before with a string of comments seen as misogynistic.
In April 2016, he spoke to an election campaign rally about the 1989 murder and rape of a female Australian missionary in Davao, where he was mayor at the time.
"I was angry because she was raped," he said. "That's one thing. But she was so beautiful, the mayor should have been first, what a waste." His office later apologised for the comments.
Earlier this year Mr Duterte told Filipino soldiers they should shoot female communist rebels in the vagina.
Both incidents lead to strong criticism and a backlash on social media.
Duterte remains popular
Howard Johnson, BBC Philippines reporter
Despite a string of accusations of misogyny against the president, he remains popular both in the Philippines and with Overseas Filipino Workers (OFW).
OFWs I've spoken with say they like Mr Duterte because he projects a strong, assertive image of the Philippines; a father figure to look after the country and its children while they are working abroad.
On a recent trip to the UK, I met a Filipino nurse working in a hospital in London. She said she thought the Western media were biased against the president and didn't report news about him accurately.
Critics of the government say that many OFWs are targeted by pro-government bloggers on social media feeds. They say postings on platforms like Facebook and Twitter spin an inaccurate, glowing image of the president.
But Women's rights group Gabriela condemned the event, saying it was part of a bigger effort to deflect from real policy issues and Mr Duterte's waning popularity.
"His repeated acts of machismo are meant as entertainment to hide the reality of his rapidly slipping popularity due to the issues of extrajudicial killings, the Tax Reform for Acceleration and Inclusion law and big-time corruption scandals now plaguing his rule," it said in a statement on Monday.
In May, Gabriela filed a petition in congress asking the government why a statue commemorating the lives of Philippine women who were used as sex slaves during the time of the Japanese occupation had been removed from the Bay of Manila.
Mr Duterte had said the statue should be moved to a private property so as not to insult Japan.