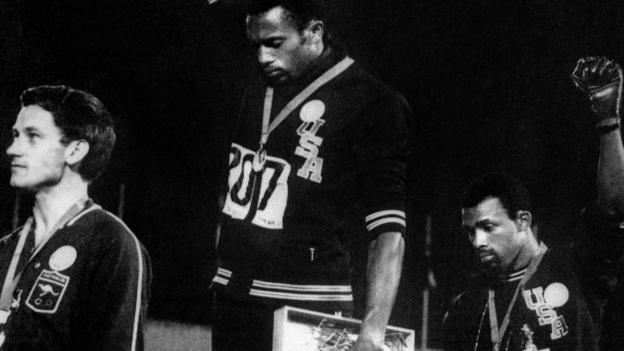 Peter Norman, the Australian sprinter involved in the Black Power salute at the 1968 Mexico Olympics, will be awarded an "overdue" posthumous Order of Merit.
He stood alongside Americans Tommie Smith and John Carlos on the 200m podium as the pair protested against racial discrimination.
Smith and Carlos bowed their heads and raised a fist clothed in a black leather glove, while Norman wore a badge supporting human rights.
Norman, who died in 2006 aged 64, was punished for his role at the time and did not compete at another Olympics.
Campaigners have called for a statue to be built in Melbourne in his honour.
An Order of Merit is given by the Australian Olympic Committee (AOC) to an athlete who has achieved "remarkable merit in the sporting world".
"This is an overdue award – the respect for Peter and his actions is still enormous to this day," said AOC president John Coates.
"We lost Peter in 2006 but we should never lose sight of his brave stand that day."
In 2012, the Australian Parliament apologised to Norman for the "failure to fully recognise his inspirational role before his untimely death".
Who was Peter Norman?
Norman's father borrowed a pair of running spikes for his son and he developed into a talented sprinter.
At the 1968 Olympics, he broke an Olympic record in the 200m heats and won a silver medal in the final.
Gold medallist Smith and Carlos wanted to wear black gloves on the podium in protest at racism in America, but Carlos left his pair at the Olympic village.
Norman suggested Smith and Carlos wear one glove each and asked a member of the United States rowing team if he could borrow a badge that read 'Olympic Project for Human Rights', a project set up to oppose racism in sport.
Smith and Carlos raised their fists during the American national anthem but the International Olympic Committee took away their credentials and told them to leave Mexico within 48 hours.
Following the protest, Norman continued to race but, despite being ranked fifth in the world, he was not selected for the 1972 Olympics in Munich.
He retired soon after without winning another title and was not invited to the 2000 Olympics in Sydney. The AOC denied it excluded him, and the US athletics team invited him to stay with them during the Games.
Norman remained friends with Smith and Carlos – the two were pallbearers at his funeral and gave eulogies, when they announced the US Track and Field Association had created the 'Peter Norman Day' in recognition of his actions.