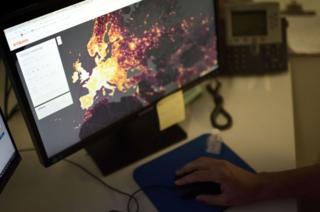 The US military has issued an order to immediately begin restricting soldiers' use of GPS tracking apps in areas deemed to be sensitive or dangerous.
Troops in "operational areas" such as warzones or overseas US bases can now be required to disable their electronic devices' geolocation services.
GPS tracking, which is present on most phones and smartwatches, enables fitness tracking and even dating apps.
The move comes after a fitness app revealed US troop movements in Syria.
The Pentagon had launched a review of GPS trackers and apps earlier this year after fitness tracker Strava released a global map of users.
The Global Heat Map showed what appeared to be western soldiers either running or cycling in Helmand, Afghanistan and Tanf, Syria, on frontline bases.
"The rapidly evolving market of devices, applications, and services with geolocation capabilities… presents significant risk to Department of Defense (DoD) personnel both on and off duty, and to our military operations globally," the order says.
"These geolocation capabilities can expose personal information, locations, routines, and numbers of DoD personnel, and potentially create unintended security consequences and increased risk to the joint force and mission."
The order stops short of banning smart devices and fitness tracking electronics themselves, but allows commanders to determine when they can be used.
"It goes back to making sure we're not giving the enemy an unfair advantage and we're not showcasing the exact location of our troops worldwide," Pentagon spokesman Col Rob Manning told reporters on Monday.
Areas where they could be restricted include military outposts being used against the so-called Islamic State in Syria.
The Pentagon headquarters in Virginia would not be considered "operational," a military spokeswoman told Nextgov.com.
"The goal of this policy is to focus more on the features instead of the devices," Pentagon spokeswoman Maj Audricia Harris told the website.
"Next thing you know there might be contact [lenses] with the same capability, so we want to focus on the feature and not the actual medium."
A spokeswoman for Fitbit, which makes wearable fitness trackers, told the Associated Press on Monday that the company is "committed to protecting consumer privacy and keeping data safe."
"Unlike a smartphone, location data is not collected by Fitbit unless a user gives us access to the data, and users can always remove our access."
This is the second order affecting electronic devices released in recent months by the Defense Department.
In May, the Pentagon issued new guidelines for the use of phones inside its Virginia headquarters.
That memo called for staff to leave phones in storage containers outside areas of the building where sensitive or classified matters are discussed, but did not completely ban the devices all together.