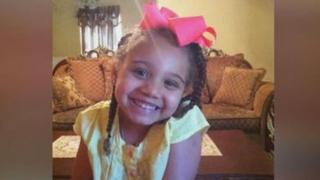 A judge in Texas has denied a further restraining order to keep a nine-year-old girl, said by doctors to be brain dead, on life support.
Payton Summons suffered cardiac arrest late last month but her parents obtained a court order forcing a hospital to keep her alive.
However, the district court judge said the burden of proof for a further order had not been met, US media report.
The current order is due to expire on Monday, the family's lawyer said.
Payton "suffered a devastating injury to her brain due to being without oxygen for over an hour" as a result of a tumour in her chest that had stopped her blood circulation, doctors at the Cook Children's Medical Center in Fort Worth said in a statement, quoted by local channel KTVT.
What will her parents do?
Payton's parents had not yet decided whether to apply for a new restraining order, lawyer Justin Moore told CNN.
"This presents a great issue for parents in the state of Texas," he said.
"They don't know how to proceed when they have a child put in this condition as Payton Summons has been put in.
"So I believe our fight is going to continue on in order to carve out some real narrow language in the law to provide courts, lawyers and parents guidance because that's what they need in times like this."
How did Payton fall ill?
She was staying with her grandmother when she woke up and said that she could not breathe.
She was taken to Cook Children's Medical Center, where doctors said they were able to revive her heartbeat but not her breathing. She was placed on a ventilator before doctors confirmed that she did not have brain activity.
Under Texas law, a person is considered dead when they have lost all brain function, the hospital added.
Payton's parents filed a temporary restraining order to keep her on life support while they tried to find another hospital that would accept her.
However only two out of more than 20 institutions contacted said they might take her – "and those were preconditioned on certain things which may be life threatening to Payton if performed", another lawyer for the family, Paul Stafford, told CNN.