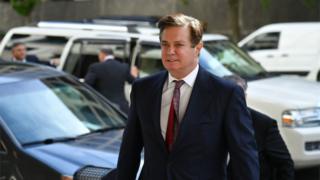 Donald Trump's former campaign manager Paul Manafort has had his bail revoked by a Washington DC judge.
Robert Mueller, who is investigating alleged Russian election interference, accused Mr Manafort of trying to tamper with potential witnesses before the trial.
Mr Manafort was accused of contacting people related to his case in breach of his bail terms.
The judge ordered him to be held in jail before his trial.
The judge said Mr Manafort had "abused the trust placed in you" and treated the court proceedings as "just another marketing exercise".
Mr Manafort's trial on charges of money laundering and illegal lobbying is due to begin in September.
The indictments are not connected with allegations of collusion between Russia and the Trump campaign during the US election in 2016.
Mr Manafort is accused by prosecutors of laundering more than $30m (£22m) and failing to disclose his lobbying efforts to the Department of Justice.
His other trial – on tax fraud charges – is due to start next month.
If Mr Manafort is convicted, he faces years in jail.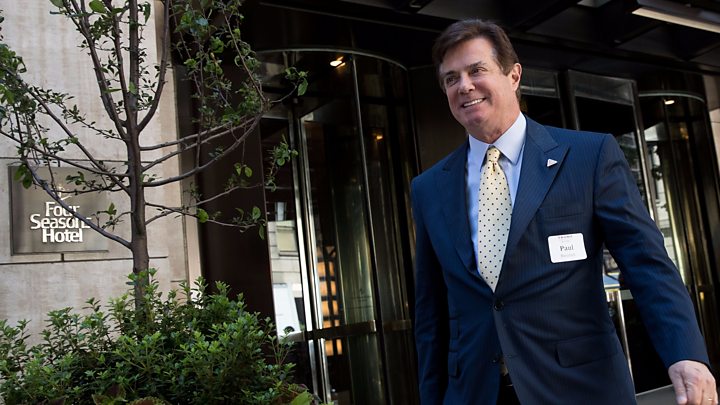 Who was Manafort accused of contacting?
According to Mr Mueller's motion, Mr Manafort tried to reach witnesses who could be called to testify about unlawful lobbying that he allegedly carried out on behalf of Ukraine's previous pro-Russian government.
He is said to have made tens of millions of dollars from a campaign to bolster that government's reputation within Europe and the US, but not to have registered this work.
Prosecutors provided the judge with a summary of contacts they said were made with potential witnesses between February and April this year using encrypted text messaging apps.
The communications were an "effort to influence their testimony and to otherwise conceal evidence", FBI Special Agent Brock Domin wrote in a separate declaration filed to the court.
Mr Manafort's lawyers said in a response filed with the court that his "limited communications" did not "reflect an intent to corruptly influence a trial witness".
The response added that it was not a crime for Mr Manafort "to communicate his view to others, especially when he is not aware of who the Special Counsel may call as witnesses".