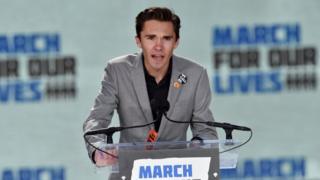 Student gun-control activist David Hogg has been the victim of a prank call that saw armed police raid his Florida home.
Broward Sheriff's office said officers were sent to the 17-year-old's parents' home after a report of a hostage situation on Tuesday morning.
David, who is out of the state, called the incident "a distraction".
It comes a day after he and other students activists announced a nationwide tour.
David has become a leader of a youth-led movement for gun control after a shooting that claimed 17 lives at Marjory Stoneman Douglas High School in Parkland, Florida, on 14 February.
Speaking to Florida's Local 10 news station on Tuesday, he said: "I think it's really a distraction from what we're trying to fix here, which is the massive gun violence epidemic in this country."
You may also be interested in:
He and his mother are currently in Washington DC, where he has accepted a human rights award.
The hoax call – which claimed someone was holding the Hoggs hostage in their home – was made at 08:39 local time on Tuesday, said authorities.
Armed police arrived at the property and soon determined nobody was home, the Broward County Sherriff's office said.
The call led to lockdowns at two nearby primary schools, CBS Miami reports.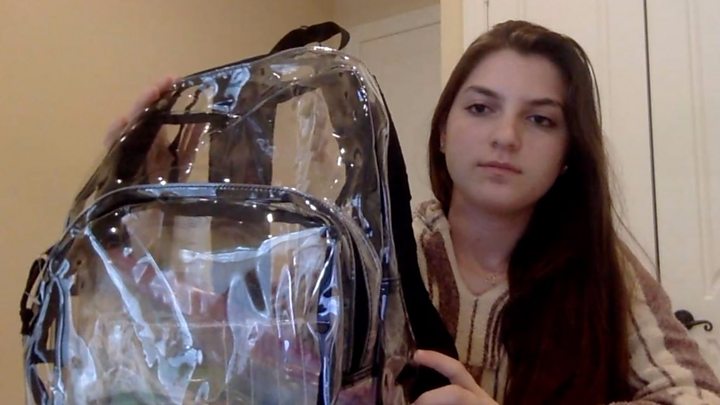 Authorities say "swatting" – making prank calls to emergency services to deploy a Swat team – has grown in popularity.
In December last year a 28-year-old Kansas man was inadvertently shot dead by a heavily armed police unit that had been sent to his home by a prank call about a hostage situation.
David and other survivors of the February school shooting have formed a pro-gun control advocacy group called Never Again MSD since February's school massacre.
On Monday, the student activists unveiled plans for a nationwide tour before November's US mid-term elections.
The March for Our Lives: Road to Change initiative aims to increase youth voter registration across the country.
The students said they plan to visit over 75 congressional districts to register young Americans to vote, starting on 15 June in Chicago.
David and his fellow activists have become lightning rods for opponents of gun control.
In March, Fox News host Laura Ingraham apologised and took a leave of absence after tweeting a criticism of his academic marks.
In April, a Missouri broadcaster resigned after saying on air that he was "getting ready to ram a hot poker up David Hogg's ass".