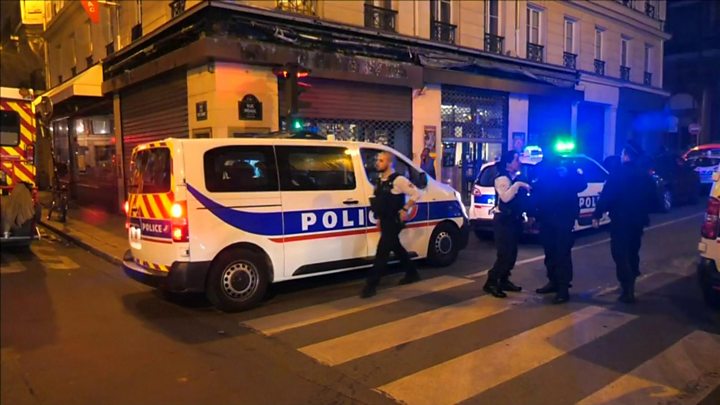 The suspect in a deadly knife attack in central Paris on Saturday evening was born in 1997 in the Russian republic of Chechnya, a judicial source says.
The attacker killed a 29-year-old man and wounded four other people in the busy Opéra district before being shot dead by police.
The suspect had shouted "Allahu Akbar" (God is greatest), witnesses said.
So-called Islamic State (IS) later said one of its "soldiers" had carried out the attack.
The judicial source told French media the suspect had no criminal record and that his parents had been held for questioning. Another source told Reuters the suspect was not previously known to police.
Interior Minister Gérard Collomb said the victim of the attack was a 29-year-old passer-by, but gave no further details.
French President Emmanuel Macron tweeted (in French): "France has once again paid in blood, but will not give an inch to the enemies of freedom."
How did the events unfold?
The attacker began stabbing passers-by at about 21:00 local time (19:00 GMT).
Eyewitnesses described him as a young man with brown hair and a beard, dressed in black tracksuit trousers.
The man tried to enter several bars and restaurants but was blocked by people inside. Police arrived at the scene within minutes.
They first tried to stop the assailant with a stun-gun before shooting him dead.
An eyewitness, named as Gloria, told AFP news agency: "We didn't know what was going on, we were quickly moved inside the bar, I went outside and I saw a man lying on the floor."
Jonathan, a waiter at a local restaurant, told AFP: "I saw him with a knife in his hand. He looked crazy."
He said a woman the attacker had stabbed ran into into the restaurant bleeding. The assailant tried to follow her inside, but was fended off and finally fled.
Two of the wounded in the attack are in a serious condition but do not have life-threatening injuries.
Later in the evening the IS group said it was behind the attack, in a brief statement posted on its news outlet.
How did French authorities react?
The anti-terrorism unit of the Paris prosecutor's office has launched an investigation.
Prime Minister Edouard Philippe said police were on the scene five minutes after an emergency call and the assailant was killed within nine minutes of beginning the attack.
Mr Collomb praised police for their "cool response". He said his first thoughts were "with the victims of this heinous act".
Paris Mayor Anne Hidalgo tweeted (in French): "Tonight, our city was bruised."
How are IS and Chechnya linked?
Chechnya is a republic in the North Caucasus region of southern Russia.
The republic declared independence in 1991 but Russian troops invaded in 1994 to quash it, sparking a decade-long conflict.
Jihadist groups, including those aligned with IS, have long operated in the region.
IS has actively recruited fighters there, sending hundreds to conflicts in Syria and elsewhere.
A report from the BBC's Sarah Rainsford in 2016 spoke of the fear that the fighters would return to carry out terrorist attacks at home.
Strongman Ramzan Kadyrov, who was nominated for the Chechen presidency by President Vladimir Putin in 2007 and is now firmly in control, has tried to halt IS recruitment but human rights activists say his measures have been brutal and have often helped radicalisation.
How has France been countering security threats?
France has been on high alert following a series of attacks. More than 230 people have been killed by IS-inspired jihadists in the past three years.
The deadliest violence occurred on 13 November 2015, when gunmen and suicide bombers struck various venues in Paris almost simultaneously – killing a total 130 people.
After winning last year's elections, President Macron pledged that fighting Islamist terrorism would be his top foreign policy priority.
Defeating IS in Iraq and Syria must go hand-in-hand with anti-terror measures in Africa, he said.
Are you in the area? Did you witness the attack? If it is safe to do so please get in touch. Email haveyoursay@bbc.co.uk.
Please include a contact number if you are willing to speak to a BBC journalist. You can also contact us in the following ways:
WhatsApp: +447555 173285
Tweet: @BBC_HaveYourSay
Upload your pictures / video here
Send an SMS or MMS to 61124 or +44 7624 800 100