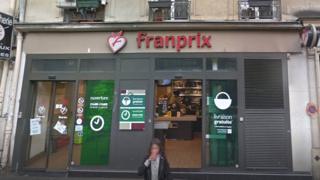 "Racists are banned from this shop" reads a handwritten sign in the window of one Paris supermarket.
The shop's manager, himself Jewish, said his notice was prompted by daily racist insults from customers at the Franprix minimarket.
The shop is in the 19th district, a generally calm and green north-eastern quarter which is ethnically very mixed.
The sign, translated, reads "In this Franprix work: Arabs, blacks, Asians, Jews, whites and others…"
The manager's move caused a stir after a photo of the sign was tweeted on Saturday by journalist Florent Latrive:
It is a criminal offence in France to insult someone on the grounds of race or religion.
The Franprix manager, named in French media only as Jean-Jacques, said he was "sick of the racist, anti-Semitic and sexist insults" hurled at him and his staff.
He was banning racists, he told France Info (in French), "because the racist insults really come from all sides, daily and it never stops".
He said he had twice reported such abuse to the police, but no action had been taken.
"I'm Jewish, my partner is Italian, one of my workers is Chinese. We've all been insulted, it's unbearable," he said.
"It's my shop, it's my place. I'm not going to be messed around!"
He said some customers became racially abusive over petty things, like having to wait a bit too long at the checkout.
French politicians have voiced concern at the rise in anti-Semitic attacks in Paris and other cities in recent years. Reports suggest the number of French Jews moving to other countries has risen, but there are only estimates, for lack of detailed ethnic data.
France was shocked by several jihadist attacks which targeted Jews, including the bloodshed in a Paris kosher supermarket in January 2015.
Read more on related topics:
One of Jean-Jacques' employees, called Diane, said "I recognise that we've had some positive reactions, but this won't change things at all".
"A little sign is not going to educate a lot of people."
Another employee, Samir, was also sceptical, saying he had feared the notice could fuel more racist abuse. But "things have turned out well", he added.
In a reply to Latrive's tweet, Simone Renga wrote that the manager himself was risking prosecution for "discrimination" because refusal to serve a client without solid grounds was an offence.
Another tweeter agreed that Jean-Jacques could be accused of discrimination – against racists – but added: "I can understand however why he is fed up".