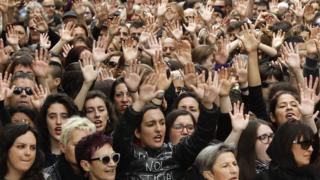 Thousands of people turned out on the streets of the Spanish city Pamplona on Saturday for the third day of protests after five men were cleared of rape.
The men, who called themselves the Wolf Pack, were found guilty of sexual abuse, which many consider too lenient.
The case has caused a national outcry, with protests also taking place in Madrid, Barcelona and Valencia since Thursday's verdict.
The victim, then 18, was assaulted at the city's bull-running festival.
The Spanish hashtag #cuéntalo, meaning "tell it", has been widely tweeted in recent days, as people shared their own stories of abuse in solidarity with her.
The five men – José Ángel Prenda, Alfonso Cabezuelo, Antonio Manuel Guerrero, Jesús Escudero and Ángel Boza – were each sentenced to nine years in prison.
Prosecutors had asked for sentences of more than 20 years.
Under Spanish law, the charge of sexual abuse differs from rape in that it does not involve violence or intimidation.
The Spanish government has said it will review the classification of sexual offenses.
More than 30,000 people protested on Saturday, according to police.
The demonstrators strode down the roads where the bulls run during the annual festival, known locally as San Fermín.
Many said they were motivated not only by this case, but they also wanted to take a stand against the whole legal system, which they said was stacked against women.
"Justice is still patriarchal, it puts the blame on us and we are unprotected," said one of the female protesters to local radio station RTVE, according to Reuters news agency.
The protesters gathered behind a giant banner, which said (in Basque): "No one judges our opinion."
A group of nuns from Hondarribia convent, in the Basque Country, also spoke out against the verdict.
"We wanted there to be a voice in the Church to criticise the sentence," a spokesperson for the sisters, Sister Mariluz, told AFP news agency.
The five-month trial was held behind closed doors to protect the woman's identity.
According to a police report, the five men surrounded her in a small alcove, removed her clothes and had unprotected sex.
Some of the men filmed the sexual act on their phones. In their WhatsApp group, named "la manada" (meaning wolf pack), they celebrated afterwards and promised to share the recording.
The police report said the victim maintained a "passive or neutral" attitude throughout the scene, keeping her eyes closed at all times. Her phone was then stolen.
Defence lawyers argued the apparent passivity was proof of consent. The prosecutors said she was too traumatised to move.
The men, who have been in custody since 2016, were also ordered to pay the woman €50,000 ($61,000; £44,000) in compensation.
Guerrero, a police officer for the paramilitary Guardia Civil, was fined an extra €900 for stealing her phone.
Both the woman and the defendants say they will appeal against the verdict.
After it was announced, the national police tweeted: "No is no", plus the emergency number, adding: "We are always with you."