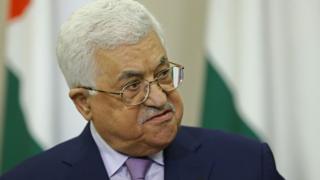 Palestinian leader Mahmoud Abbas has apologised for remarks he made about Jewish people and the Holocaust.
In a statement issued by his office on Friday he described the Holocaust as the "most heinous crime in history".
Earlier this week, Mr Abbas told a meeting in the West Bank that the Nazi mass murder of European Jews was the result of their financial activities, not anti-Semitism.
His comments were condemned in Israel and around the world.
"If people were offended by my statement… especially people of the Jewish faith, I apologise to them," Mr Abbas's statement added.
"I would like to assure everyone that it was not my intention to do so, and to reiterate my full respect for the Jewish faith, as well as other monotheistic faiths."
Israeli defence minister Avigdor Lieberman rejected Mr Abbas's apology, describing the Palestinian leader on Twitter as "a wretched Holocaust denier".
Mr Abbas made the controversial comments while addressing the Palestinian National Council, the legislative body of the Palestine Liberation Organisation (PLO), in Ramallah on Monday.
His televised speech included a section on his view of the history of European Jewry, based on what he said were books by "Jewish Zionist authors".
He said that, over the centuries, Jews in eastern and western Europe had been periodically subjected to massacres, culminating in the Holocaust.
"But why did this used to happen?" he asked. "They say, 'It is because we are Jews.' I will bring you three Jews, with three books who say that enmity towards Jews was not because of their religious identity but because of their social function.
"This is a different issue. So the Jewish question that was widespread throughout Europe was not against their religion but against their social function which relates to usury [unscrupulous money-lending] and banking and such."
Mr Abbas's comments were widely condemned.
The UN's Special Co-ordinator for the Middle East Peace Process, Nickolay Mladenov, said Mr Abbas had chosen "to repeat some of the most contemptuous anti-Semitic slurs".
Such statements were unacceptable and "deeply disturbing", he added.
Israeli Prime Minister Benjamin Netanyahu called the remarks "anti-Semitic and pathetic" while EU foreign policy chief Federica Mogherini said they were "unacceptable" and would only work against the peace process.
It was not the first time that the Palestinian leader had caused offence with his views on the Holocaust.
A student dissertation he wrote in the early 1980s argued there had been a "secret relationship between Nazism and Zionism" before the war, and appeared to question the death toll of six million.