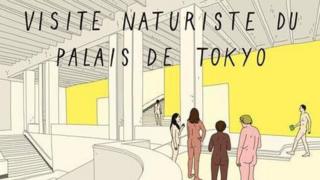 A Paris gallery has opened its doors for the first time to nudists with 161 visitors appreciating art in the raw.
The Palais de Tokyo, a contemporary art museum in the exclusive 16th arrondissement (district), held the one-off event on Saturday.
After leaving their clothes in the cloakroom, visitors were able to view exhibitions before the gallery opened its doors to clothed art lovers.
The Paris Naturist Association hailed the idea as a great opportunity.
Last year, the French capital created a dedicated zone for nudists in the Bois de Vincennes park.
"The mentality is changing these days," Julien Claude-Penegry, the director of communications for the Paris Nudist Association, told Reuters news agency. "Nudists are overcoming barriers, taboos, or mentalities that were obstructive."
Local newspaper Le Parisien reports that the visit was a "great success" for the men and women in "Adam and Eve attire".
"The atmosphere was very nice," said one male nudist, adding: "Of course, in the vast spaces of the Palais de Tokyo, one feels more vulnerable when one is naked. And you experience the works differently."
"You interact more with the sculptures especially," said Parisian student Marta, 23. "In some rooms where there was music, people moved like they were dancing."