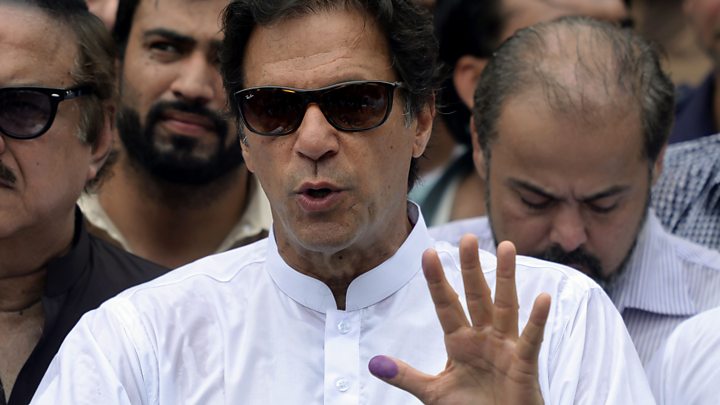 The party of ex-Pakistan Prime Minister Nawaz Sharif says it will not boycott the country's new parliament despite reservations over the election results.
Former cricketer Imran Khan, whose PTI party has a clear lead in results reported so far, has claimed victory.
On Friday, a senior leader of Mr Sharif's PML-N party said the outcome of the parliamentary vote would be accepted for the sake of democracy.
The party had alleged vote rigging had taken place during Wednesday's poll.
On Friday, a European Union monitoring team said the election campaign featured a "lack of equality".
"Although there were several legal provisions aimed at ensuring a level playing field, we have concluded that there was a lack of equality and opportunity," chief observer Michael Gahler told reporters.
"Candidates with large political appeal and financial means – the so-called 'electables' – often dominated the campaign."
Mr Khan has faced accusations that his election challenge benefited from military interference.
On Thursday the charismatic leader – who captained Pakistan to a World Cup victory in 1992 but has long since shed his celebrity playboy image – said the vote had been the "clearest, fairest election Pakistan has ever had".
The election was seen as a contest between Mr Khan's Pakistan Tehreek-i-Insaf (PTI) party and Mr Sharif's Pakistan Muslim League-Nawaz (PML-N).
An official confirmation of the vote is still to come.
What has Sharif's party said?
A senior leader of the PML-N, Hamza Shahbaz Sharif, said the party had "reservations" over the way the election was held, but said it would concede victory in order to "strengthen democracy in the country".
"We are going to sit on opposition benches, despite all the reservations," the former prime minister's nephew said.
"Even if democracy is flawed, its solution is more democracy, and then more democracy."
Earlier, Nawaz Sharif, who is in prison after being convicted on corruption charges he disputes, said the election had been "stolen".
He added that the "tainted and dubious" results would have a detrimental impact on the country's politics.
What are the latest figures?
Results declared so far show Mr Khan's party is leading the count with 114 seats of the 272 National Assembly constituencies being contested, far ahead of the PML-N.
However a total of 137 seats is required for a majority and while Mr Khan is on course to become Pakistan's next prime minister, he will have to form a coalition government.
The turnout has been estimated at between 50% and 55% out of 106 million registered voters, AFP reports.
---
Can Khan improve relations with India?
Analysis by Soutik Biswas, BBC News, Delhi
Imran Khan has vowed to hold talks with India to seek a resolution to the dispute over the Kashmir region, a key flashpoint between the nuclear-armed countries. "I really want to fix our ties, you take one step forward, we take two," he said in Islamabad on Thursday.
Except, nothing much will possibly happen until the general elections in India next year. Ties between India and Pakistan have been in precipitous decline for nearly a decade now. India has often said it does not know who to talk to Islamabad.
With an articulate and charismatic leader like Khan at the helm, India will no longer have such an excuse. But with general elections barely a year away, Prime Minister Narendra Modi is unlikely to pick up the gauntlet and hold talks with Mr Khan. who is likely to seek concessions.
So relations between the rivals are likely to remain in a limbo. Ties may even deteriorate further as Mr Modi's Hindu nationalist BJP ramps up the rhetoric in the run-up to the elections, and both sides escalate tensions on the restive border.
---
What will be the next PM's main challenges?
Before the election Mr Khan told the BBC that if he were to be elected, his initial focus would be on the economy. The value of Pakistan's currency, the rupee, has been falling. Inflation is on the rise and the trade deficit is widening.
Exports such as textiles have taken a hit from cheaper products by regional competitors, including China. Analysts say the new government may need to turn to the International Monetary Fund (IMF) for the country's second bailout since 2013.
The BBC's Secunder Kermani in Islamabad says tough decisions that could entail curbs on spending will be easier in a government Mr Khan is able to dominate.
However, if his rivals continue to reject the results, and even potentially launch the kind of street protests Mr Khan himself held while in opposition, the country could face political instability.
Why does this election matter?
Pakistan has a population of nearly 200 million, and is a nuclear-armed rival to India, a key developing economy and one of the world's largest Muslim-majority nations.
The country has been ruled on and off by the military during its 71-year history, so this election is significant because it is considered the country's second consecutive democratic transition.