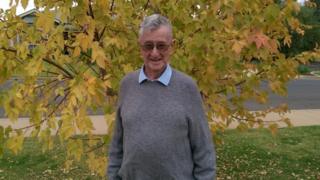 Former Australian detective Denis Ryan was driven out of the police force in 1972 when he tried to bring a paedophile priest to justice.
Now almost 50 years after he was ordered by superiors to drop the case – and deprived of a police pension – Mr Ryan will receive compensation.
The 86-year-old man was recently awarded an undisclosed sum by the state government of Victoria.
"When I heard the news, I nearly jumped out of my socks," he said.
'Destruction of my life'
As a detective in the 1970s, Mr Ryan tried to charge Monsignor John Day with sexual offences in the regional city of Mildura.
However, he was blocked by senior police officers and ordered to drop the case. Mr Ryan has blamed the decision on his superiors' "allegiance" to the Church.
In 2015, he testified at a royal commission inquiry into child sexual abuse in Australia. At that inquiry, a former Victoria Police chief commissioner, Mick Miller, gave evidence in his favour.
Mr Miller said there had been "misconduct by senior Victoria Police officers, including dereliction of duty, conspiracy to pervert the course of justice and inciting other members of the police force to join the conspiracy against Denis Ryan in order to conceal the crimes committed by Day", according to a report by Fairfax Media.
The inquiry later determined that Mr Ryan had been ordered to transfer from Mildura to another police station due to his investigations into the priest.
Mr Ryan could not relocate due to family reasons, so he resigned – a decision that made him ineligible for the police pension.
The former detective said it had set off "the destruction" of his life, leaving him traumatised and contributing to the breakdown of his marriage.
"I was just shattered – I had always wanted to be a policeman," he told the BBC. "But I was knocking my head against a brick wall."
Day did not face police charges before his death in 1978.
Apology and compensation
Victoria Police officially apologised to Mr Ryan in 2016. Next month, the state government will pay him a confidential amount in compensation.
Last month, state Premier Daniel Andrews described Mr Ryan as "an absolute Victorian hero".
On Monday, Mr Ryan said: "I was delighted, extremely pleased, and thought [waiting] 45 years is enough.
"But I'd give it all back if the people who are the adults now – these children who were molested by these priests – didn't have to go through what they did.
"It has lived with me forever. It is a burden and I will never forget it."
Mr Ryan said he continued to suffer occasional nightmares.
In January, he was made a Member of the Order of Australia following a nomination by support groups of victims of child abuse.
Reporting by the BBC's Frances Mao