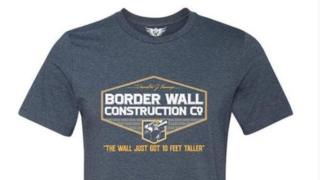 A student in the US state of Oregon has settled a lawsuit with his school after he was suspended for wearing a shirt promoting the US-Mexico border wall.
Addison Barnes, 18, alleged the school violated his free speech rights by punishing him for wearing a shirt saying: "Border Wall Construction Co".
The school settled the lawsuit with a written apology and $25,000 (£19,000).
The case comes amid outcry over Twitter's treatment of some conservative accounts.
President Donald Trump tweeted on Thursday about Twitter's supposed "shadow banning" of conservative accounts, or making certain accounts less visible in searches by other users.
It appears to be the result of recent Twitter policy changes meant to crack down on racist and vitriolic users.
Certain top Republicans – including Republican party chair Ronna McDaniel – have been affected, Vice News first reported. Democrats did not seem to be impacted.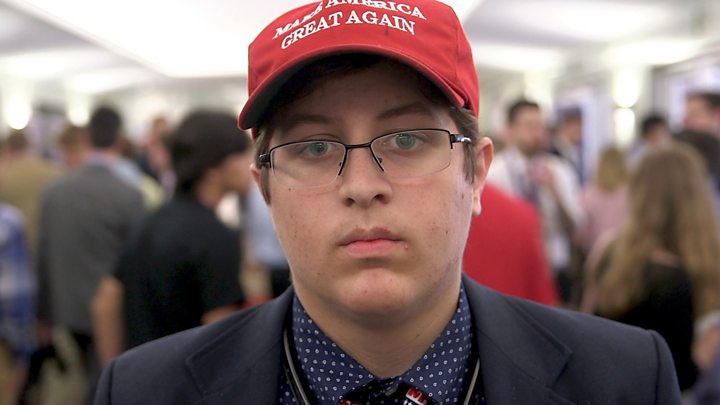 Republican congressmen Matt Gaetz, Mark Meadows and Jim Jordan also saw their Twitter reach diminished. Since the news broke, Ms McDaniel's account has reappeared in searches.
Twitter product lead Kayvon Beykpour said on Wednesday that the platform's "behavioural ranking doesn't make judgments based on political views or the substance of tweets" and that Twitter is looking into the issue.
In Hillsboro, Oregon, a similar row over silencing conservative voices set off a federal lawsuit over first amendment rights, which protects free speech in the US constitution.
That debate, started in May, has now concluded, with Liberty High School agreeing to settle a high school senior's free speech lawsuit by offering to cover legal fees and issue a written apology from the principal.
The student, Mr Barnes, had been suspended for wearing a shirt emblazoned with the words "Donald J Trump Border Wall Construction Co.", an image of a brick wall, and beneath it, "The Wall Just Got 10 Feet Taller".
Mr Barnes said he wore the shirt to a politics class for a discussion on immigration and was told to cover it by the assistant principal because other students "felt offended or threatened by the ideas or message it conveyed", according to the lawsuit.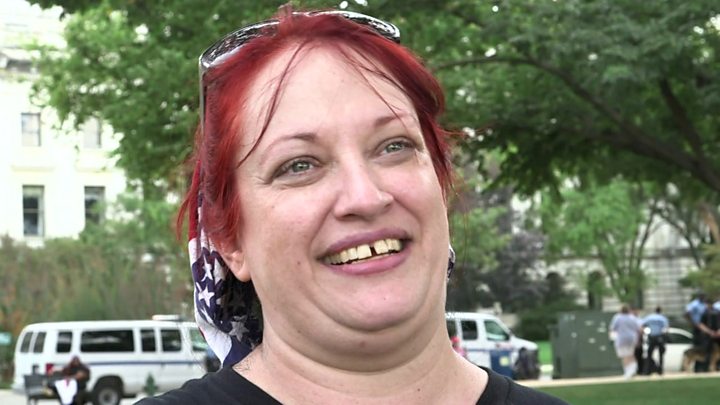 When he refused, he was taken out of class and suspended. The school – which noted a third of its student body is Hispanic – later revoked his suspension.
After filing the federal lawsuit, Mr Barnes, who graduated this year, told local news outlet KGW8 that "the T-shirt was just a representation of my political beliefs".
"I had a teacher who had a pro-sanctuary city poster in her room which was up all year, yet as I wear a pro-border wall shirt I get silenced and suspended for wearing that."
Mr Barnes' legal complaint cited Tinker vs Des Moines, a famous student free speech Supreme Court case that won students the right to wear armbands in protest of the Vietnam War.
In a statement released on Tuesday, Liberty High School said staff acted "out of an abundance of caution on behalf of their student body", US media reported.
"Liberty High School administration believed they could reasonably forecast that Mr Barnes' shirt might cause other students to feel unsafe and could potentially lead to walkouts, altercations, or other disruptive actions."
But Brad Benbrook, one of Mr Barnes' attorneys, said the young man should be "commended for his courage", CBS News affiliate KOIN-TV reported.
"The message on his shirt wasn't the point of this case. We brought the case to police the thought police. The first amendment does not allow what is going on in too many schools today."
Now, Liberty now joins other schools and universities across the country who have faced similar calls of discrimination.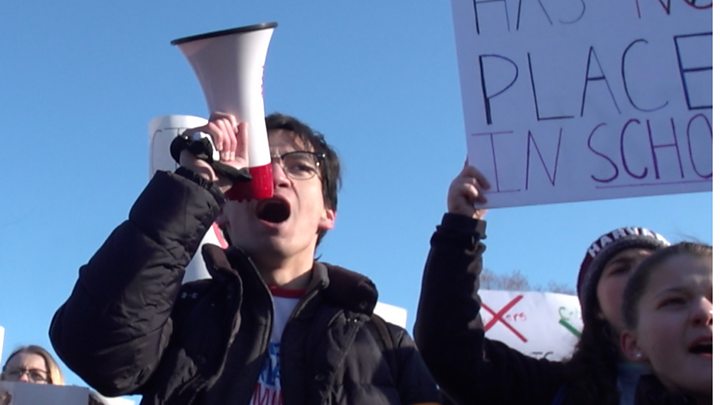 Earlier this month in Reno, Nevada, another school district settled with a student who was told his pro-gun shirt went against the school's dress code.
The district announced it would update its code to allow clothing promoting weapons and paid some of the student's legal fees, the Associated Press reported.
Schools nationwide also saw lawsuits over protests following the Parkland school shooting, where students felt officials violated their free speech rights by keeping them from demonstrating.