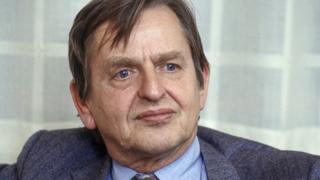 A man who said he witnessed the unsolved assassination of Swedish Prime Minister Olof Palme 30 years ago has himself been linked to the killing.
A new investigative report by Filter Magazine has named the likely killer as Stig Engstrom, who died in 2000.
Police had initially dismissed him a suspect, but reports suggest they have recently spoken to people close to him.
Palme, a charismatic Social Democrat leader, was shot dead in the centre of Stockholm and died on the pavement.
He was attacked as he left the cinema with his wife on 28 February 1986.
Some 10,000 people were questioned after his murder and 134 people have since claimed they carried it out.
Police say they have been looking into new leads in the case and have promised a solution "in the near future", say Swedish media.
Stig Engstrom's ex-wife confirmed to Expressen newspaper that she had been questioned about him by detectives on two separate occasions last year.
"It is out of question," she said of the latest reports. "He was not that kind of person, that's for sure. He was too much of a coward. He wouldn't harm a fly."
Who was Stig Engstrom?
Engstrom was identified as a suspect by journalist Thomas Pettersson, whose 12 year investigation has been published in Filter magazine.
He had always been considered a key witness as he was one of the first people on the scene, but not formally as a suspect. Swedish media had dubbed him Skandia man because he had been working late that night in the Skandia building close to where the attack took place.
Two minutes after he left the building at 23:19, Olof Palme was shot.
He later gave evidence in the trial of Christer Pettersson, who was jailed for life for the murder in 1988 but then had his conviction overturned on appeal.
During the trial he said he was walking on the pavement when he stumbled on someone lying on their back on the ground. "I see there's blood. I hesitate whether to go to my metro station or stop."
Filter magazine has now alleged that Stig Engstrom had had weapons training.
He also is said to have had access to a firearm similar to the one used in the attack because a close friend had a weapons collection, it reports. The friend had spent time in the US military and had a strong interest in American Magnum revolvers, it is claimed. It was a Magnum that was used to kill the prime minister.
Engstrom killed himself in 2000.
Experts unimpressed by new claim
The mystery surrounding the killing continues to fascinate Swedes and has spawned numerous different theories as to what exactly happened.
But various legal and political figures have warned against jumping to conclusions.
"I'm not impressed," lawyer Leif Silbersky told the Aftonbladet newspaper. "It is easy to point out a dead man who cannot defend himself."
"You should be very careful. We are quite used to seeing different tips," former chief prosecutor Sven-Erik Alhem added.
Sweden's Prime Minister Stefan Lofven commented on the case on Swedish TV on Wednesday. "This is an open wound in Swedish society. It is extremely important that this is solved," he said.
What happened to Olof Palme?
The prime minister and his wife Lisbeth had just watched a Swedish comedy film The Mozart Brothers when they were shot in the street.
He was hit twice in the stomach and died almost instantly. His wife Lisbeth was also hit but suffered superficial injuries.
Police say a taxi-driver used his mobile radio to raise the alarm. Two young girls who were sitting in a car close to the scene of the shooting tried to help the dying prime minister.
He was rushed to hospital but was declared dead on arrival.