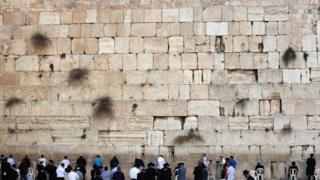 A Belgian artist has faced a backlash in Israel after posing nude in front of one of Judaism's most sacred sites.
Marisa Papen posted the image of herself reclining naked on a rooftop overlooking the Western Wall in Jerusalem.
It is not the first time that the model has caused controversy.
Last year she was briefly detained after taking naked photos at an ancient Egyptian temple in Luxor.
In a post on her personal website on Saturday entitled "The Wall of Shame", Ms Papen said her experiences in Egypt had made her want "to push the boundaries [sic] of religion and politics even further… [by] showing my personal religion in a world where freedom is becoming a very luxurious thing."
She said her three-day visit to Israel coincided with the 70th anniversary of its founding, and the controversial opening of the US embassy in Jerusalem in May.
Photos from the trip showed the model in the Dead Sea and straddling an Israeli flag pole.
But the most provocative image was of Ms Papen posing naked in view of the Western Wall. It is a remnant from the time of the biblical second Jewish temple and the most sacred place where Jewish people can pray.
Some of those commenting online accused Ms Papen of anti-Semitism and of deliberately excluding the Dome of the Rock and religious sites sacred to Muslims, just out of shot, to protect Muslim sensitivities.
However, the model told The Times of Israel that religious sensibilities did not play a role in the selection of the final image, adding: "It was just way better artistically."
The model's trip to Egypt in September also sparked outrage, after she was photographed naked for a sunglasses advertising campaign from inside the conservative Muslim-majority country.
Ms Papen did not have permission from the country's authorities to take the images, and she later said that she and her cameraman had to bribe a policeman who interrupted their shoot at the pyramids in Cairo.
Describing the negative response of two passers-by, she said: "We tried to explain them that we were making art with the highest respect for Egyptian culture, but they could not see a connection between nudity and art. In their eyes it was porn, or something like that."
Their problems increased in a temple in the historic southern city of Luxor, where they were stopped by police and spent a night in an Egyptian prison before being released.