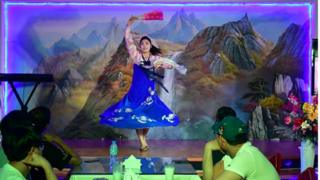 A group of 13 North Korean restaurant staff who moved to the South in 2016 were forced to defect by South Korean intelligence, their manager says.
Ho Kang-il told South Korea's Yonhap news agency he had been blackmailed and that his 12 female employees did not know where they were being taken to when they left for Seoul.
The UN has called for a "thorough" investigation into the case.
South Korea had previously said that the group defected voluntarily.
The restaurant employees were working at a state-run North Korean establishment in the Chinese city of Ningbo in 2016 when they left for the South.
At the time, a government official in Seoul said the group had started to distrust North Korean propaganda after watching South Korean television dramas.
But in an interview published by Yonhap on Sunday, restaurant manager Ho Kang-il said he had been working with South Korea's National Intelligence Service (NIS), who promised him that he could open a restaurant if he defected to the South.
He said that when he hesitated, the NIS began to blackmail him.
"They threatened that unless I come to the South with the employees, they would divulge to the North Korean embassy that I had co-operated with the NIS until then. I had no choice but to do what they told me to," he said.
The United Nations' special rapporteur on human rights in North Korea, Tomas Ojea Quintana, told reporters earlier this week that some of the women had said they were brought to the South "without knowing they were coming here" and called for an investigation.
North Korea is believed to operate around 130 restaurants abroad, which provide a valuable source of foreign currency, and workers are selected for their loyalty.
Doubts about the group's defection first emerged two months ago when Mr Ho and three of the women, whose faces were blurred and their identities hidden, appeared on South Korean channel JTBC and said they were coerced into travelling to the South.
One of the women said that Mr Ho had threatened to inform North Korean security police that the women had been watching South Korean television, a punishable offence in the repressive country.
Seoul's unification ministry said that the group's accounts would need to be checked after the JTBC interview was aired.
North Korea has consistently claimed that the group was kidnapped by the South. But Seoul, which last year quadrupled its reward to defectors from the North to $860,000 (£650,000), insists that all defectors come voluntarily.
More than 30,000 North Koreans have arrived in the South over the past two decades, according to the South Korean government.