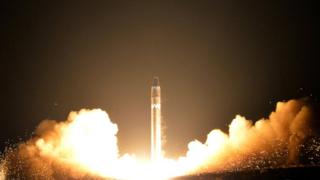 North Korea appears to be building new ballistic missiles in spite of warming ties with the Trump administration, media reports say.
Spy satellites spotted continuing activity at a site that has produced ballistic missiles, unnamed US officials told the Washington Post.
Reuters news agency quotes an official as saying it is unclear how far the work has gone.
President Donald Trump met North Korean leader Kim Jong-un in June.
After the first meeting between leaders from the two countries, the two men pledged to work towards denuclearisation. Mr Trump said the North was "no longer a nuclear threat".
But Mr Trump was criticised at home for making concessions without securing any firm commitment from Mr Kim to end the nuclear and missile programmes.
What do the latest reports say?
On Monday the Washington Post newspaper quoted officials as saying the North Korea appeared to be building one or two new intercontinental ballistic missiles at the Sanumdong facility near the capital Pyongyang.
The factory produced the country's first intercontinental ballistic missiles capable of reaching the US, the paper adds.
According to Reuters, satellite imaging shows vehicles moving in and out of the facility, but not the extent of any missile construction.
These are not the first reports of that North Korea may be continuing its weapons programme, casting doubt on the real impact of the summit in Singapore.
In late June US media carried reports based on intelligence leaks suggesting that the North was still upgrading its nuclear enrichment sites, among other activities.
Last week Secretary of State Mike Pompeo told senators that North Korean factories "continue to produce fissile material" used in making nuclear weapons.
In April North Korea announced that it was halting its nuclear and missile tests.
Major North Korean missile tests
Last year North Korea carried out a number of missile tests that raised alarm in the region and increased tensions with the US:
12 February 2017 – A medium-range ballistic missile launched from Banghyon air base near the west coast. It flew east towards the Sea of Japan for about 500km.
4 July 2017 – Pyongyang claimed to have successfully tested an intercontinental ballistic missile for the first time. Officials said it reached an altitude of 2,802km and flew for 39 minutes.
29 August 2017 – North Korea fired what is thought to be its first nuclear-weapon capable ballistic missile over Japan. It was launched from near Pyongyang and reached a height of about 550km.
15 September 2017 – A ballistic missile was fired across Japan for the second time and landed in the sea off Hokkaido. It reached an altitude of about 770km and travelled 3,700km.
29 November 2017 – North Korea said it had successfully tested a new type of intercontinental ballistic missile that could reach the whole of the continental US. The Hwasong-15 missile landed in Japanese waters but flew higher than any other missile the North had previously tested.