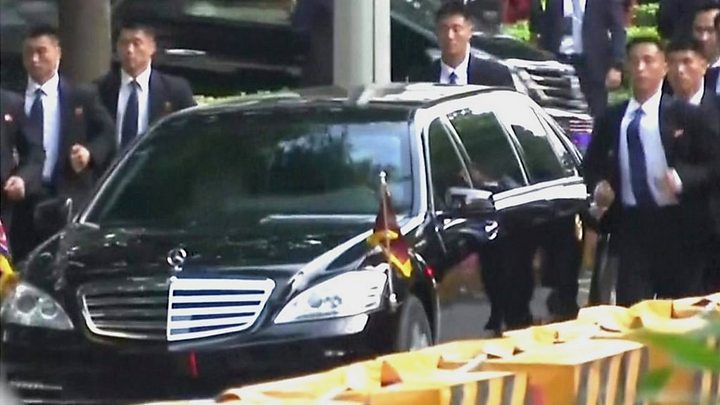 The US will offer North Korea "unique" security assurances in return for denuclearisation, Secretary of State Mike Pompeo has said.
Speaking ahead of Tuesday's US-North Korea summit in Singapore, Mr Pompeo said preliminary talks between senior officials were continuing and moving quite rapidly.
He insisted the US would accept nothing less than complete denuclearisation.
North Korea's state media has talked of a "new relationship" with the US.
What did the secretary of state say?
Mr Pompeo, Donald Trump's top diplomat, said that the president was fully prepared for his meeting with Kim Jong-un.
He said the US would be satisfied with nothing less than the complete, verifiable and irreversible denuclearisation of the Korean peninsula – with verification the key part of any deal.
The US was prepared to offer certainty to North Korea so they could be "comfortable that denuclearisation isn't something that ends badly for them".
He would not be drawn on what might be on offer.
Mr Pompeo stressed that economic sanctions would remain in place "until North Korea completely and verifiably eliminates its weapons of mass destruction programmes".
What is happening now?
Both Mr Trump and Mr Kim arrived in Singapore on Sunday.
Singapore's Foreign Minister Vivian Balakrishnan, who met Mr Trump and Mr Kim separately on Sunday evening, told the BBC that both leaders were feeling "supremely confident" ahead of their meeting.
The US president and North Korean leader are staying in separate hotels, not far from each other, and will meet on Tuesday at a hotel on Sentosa, a popular tourist island a few hundred metres off the main island of Singapore.
Their first meeting will be just the two men, with their translators, without any advisers present.
Mr Trump has said he has a "good feeling" about Tuesday's much-anticipated summit.
Mr Balakrishnan confirmed that Singapore was paying for the North Korean delegation's stay, describing it as "hospitality that we would have offered".
What has North Korea said?
Highly unusually, North Korea's state-run media are already reporting on Mr Kim's trip to Singapore to meet Mr Trump. As a rule, they would only report on the leader's movements after the event.
An editorial in Rodong Sinmun confirmed that Mr Kim had travelled to Singapore to meet Mr Trump and that "we will establish a new relationship to meet the changing demands of the new era".
It continues: "Even if a country had a hostile relationship with us in the past, our attitude is that if this nation respects our autonomy… we shall seek normalisation through dialogue."
---
Why North Korea's comments matter
Analysis: Laura Bicker, BBC News, Singapore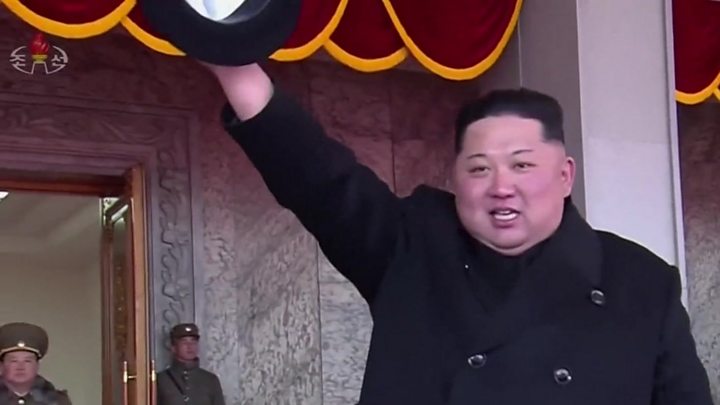 For decades the US has been a sworn enemy. There are even anti-American museums in Pyongyang.
But the state is now trying to sell the idea of talking to what it once described as "the incarnation of all sorts of evil, the empire of devils". And that was some of its milder language.
So let's examine a couple of key phrases from Rodong Sinmun.
In the English version, the summit is sold as a chance to realise "the denuclearisation of the Korean peninsula and other issues of mutual concern, as required by the changed era".
It's the "changed era" that is important. North Korea has spent decades building up a nuclear arsenal at great cost. Kim Jong-un needs to tell his people why he's willing to negotiate.
His New Year speech – the one that kick-started this diplomatic process – was all about North Korea's strategy of building the economy having achieved the goal of becoming a nuclear power. This has echoes of that.
These pages in the paper are significant because they pave the way for a possible change in the state's message and it helps those watching argue that this time with North Korea, things could be different.
---
How did we get here?
The two leaders have had an extraordinary up-and-down relationship over the past 18 months.
Mr Trump's first year in office was marked by bitter exchanges between himself and Mr Kim – as North Korea conducted several ballistic missile tests in defiance of the international community.
The US president successfully sought to tighten UN sanctions on the North, and to get its traditional ally, China, to go along. He also famously vowed to unleash "fire and fury" if Pyongyang kept threatening the US. Mr Kim has called him "mentally deranged" and a "dotard".
A defiant North Korea carried out its sixth nuclear test in September 2017. Soon after, Mr Kim declared that his country had achieved its mission of becoming a nuclear state, with missiles that could reach the US.
In early 2018, a remarkable turnaround in the relationship occurred. It started with significant diplomatic overtures from North Korea towards South Korea during the Winter Olympics. In March, Mr Trump shocked the world by accepting an invitation from Mr Kim to meet in person.
What do both sides want?
Denuclearisation has been the central issue in the run-up to the talks. The US wants North Korea to give up its nuclear weapons, but North Korea is widely expected to resist that and it is unclear what it might ask for in return.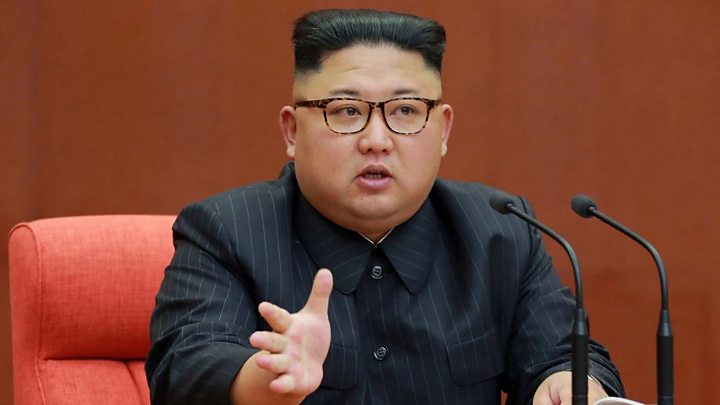 Mr Kim has also said he wants to focus on building the North Korean economy – and thus wants sanctions relief and international investment. The question is what concessions he is willing to make, and whether he will stick to any promises made.
Still, the US is not necessarily expecting to get a final deal in Singapore. President Trump has described it as a "get-to-know-you situation" and said "it's going to be a process".