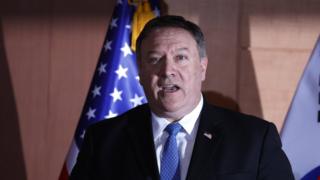 North Korea will not get any sanctions relief until it has demonstrated "complete denuclearisation", US Secretary of State Mike Pompeo has said.
Mr Pompeo was speaking at a press conference in Seoul with his South Korean and Japanese counterparts.
He said Pyongyang was committed to giving up its nuclear programme.
The conference comes days after President Donald Trump and Kim Jong-un held a historic summit in Singapore.
The leaders signed a statement pledging to establish a new relationship. North Korea reaffirmed previous promises to work towards the "complete denuclearisation of the Korean peninsula".
There has been deep scepticism about the agreement, with observers saying it lacked detail on how North Korea would give up its nuclear weapons and how that process would be verified.
Dismissing North Korea media
Mr Trump had earlier said that sanctions would "remain in effect" until "the nukes are no longer a factor", but it was unclear exactly what that meant.
"At a certain point I look forward to taking them off and they will come off when we know we are down the road," he told a news conference after the summit.
Mr Pompeo has travelled to South Korea to brief the US's regional allies on the agreement, and on Mr Trump's surprise announcement that he was ending the routine US-South Korea military drills which have so angered North Korea.
The secretary of state dismissed a report by North Korean state media that Mr Trump and Mr Kim had agreed to a "step-by-step" process of nuclear dismantling.
This has been taken to indicate that the US would grant concessions to Pyongyang along the way.
"We believe that Kim Jong-un understands the urgency [of denuclearisation]," said Mr Pompeo. "That we must do this quickly."