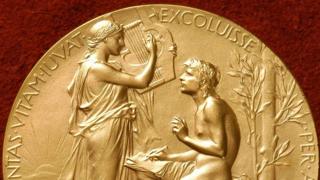 The Swedish Academy will announce on Friday whether the Nobel Prize for Literature will go ahead this year amid the biggest scandal to hit the award since it was founded in 1901.
The organisation says it faces a crisis over its handling of allegations of sexual misconduct by the French photographer Jean-Claude Arnault.
Some academy members say the prize must proceed to protect the tradition.
Others argue that the institution is in no state to present the award.
What sparked the crisis?
Divisions started to emerge last November when Mr Arnault, who ran a cultural project with funding from the Swedish Academy, was accused by 18 women of sexual assault.
Several of the alleged incidents reportedly happened in properties belonging to the academy. Mr Arnault denies the allegations.
The organisation later voted against removing Mr Arnault's wife, the poet and writer Katarina Frostenson, from its committee.
This, along with accusations of conflict of interest and the leaking of Nobel winners' names, is said to have divided the organisation.
What followed was a wave of resignations, including Ms Frostenson and the head of the academy, Prof Sara Danius, leaving just 11 members in place.
So what happens next?
The Swedish Academy has promised to issue a statement on whether a prize will be awarded this year or reserved for next year.
If the academy decides to postpone it, two prizes for literature will be announced in October 2019.
It is not clear which way it will go, but one source earlier suggested to Swedish radio station SR that shelving this year's award was the only way to restore the organisation's "prestige".
It may also be that in light of the #MeToo campaign, which showed the prevalence of sexual assault, it would be difficult for potential winners to accept the prize with the academy in turmoil.
A statement from the academy said the Nobel Prize for Literature's reputation had suffered "greatly", promising a plan to restore public confidence in the organisation.