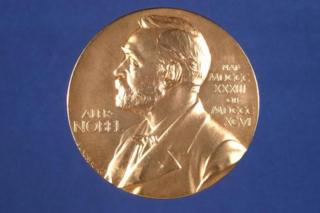 One of the oldest and most prestigious cultural awards – the Nobel Prize for Literature – could be cancelled this year with the organisation responsible admitting it faces a crisis.
The Swedish Academy is under fire for how it dealt with alleged sexual misconduct by French photographer Jean-Claude Arnault, who is married to a former member of the centuries-old institution.
On Thursday, the Academy will decide whether this year's prize will go ahead, with some members reportedly concerned it is in no state to make such an award.
How did the scandal develop?
Last November, inspired by the #MeToo campaign, 18 women made allegations of sexual assault and harassment against Mr Arnault. Several of the alleged incidents reportedly happened in properties belonging to the Academy. He denies all the allegations.
The organisation then voted against removing his wife, the poet and writer Katarina Frostenson from its 18-person committee.
This, along with accusations of conflict of interest and the leaking of Nobel winners' names is said to have divided the organisation and has sparked a wave of resignations, including Ms Frostenson and the head of the Academy, Professor Sara Danius, leaving just 11 members in place.
Normally secretive, Academy members have attacked each other in public. One member, Horace Engdahl, called some of those resigning "sore losers" and described Ms Danius as the worst permanent secretary ever.
Her supporters see Ms Danius as a reformer battling a patriarchal institution. After she quit some of them, including Sweden's culture minister, posted photos of themselves wearing a blouse favoured by Ms Danius in solidarity.
Technically members cannot resign from their positions, which are for life, but they can stop participating in Academy activities. The Swedish King King Carl XVI Gustaf says he will change those rules.
Arnault has also been accused of groping the heir to the Swedish throne, Crown Princess Victoria, in 2006, something he denies.
So what next?
One of the remaining members, Pers Wästberg, told the Guardian newspaper that after Thursday's meeting "there will most probably be a statement on whether we will award a prize this year or reserve it for next year, in which case two prizes for literature will be announced in October 2019″.
What will happen is unclear, but one source suggested to Swedish radio station SR that shelving this year's award was the only way to restore the organisation's "prestige".
It may also be that in light of the #MeToo campaign, which showed the prevalence of sexual assault, it would be difficult for potential winners to accept the prize with the Academy in turmoil.
A statement from the Academy said the Nobel Prize for Literature's reputation had suffered "greatly", promising a plan to restore public confidence in the organisation.
SR's cultural reporter Mattias Berg says "it is by far the biggest crisis in the history of the Academy".
How unusual is this?
The circumstances that might lead to this year's award being postponed are unique but there have been years without a Nobel Prize for Literature.
The prize has not been given out seven times in total, mostly during war years, although in 1935 it was thought no candidate deserved the prize. The last time there was no award was in 1943.
Previous winners provide a formidable, eclectic mix.
Recent years saw both US singer Bob Dylan and Belarusian writer and journalist Svetlana Alexievich claim the prize, while other recipients include Nigeria's Wole Soyinka, Colombian novelist Gabriel García Márquez, dissident Russian author Alexandr Solzhenitsyn and Indian great Rabindranath Tagore.