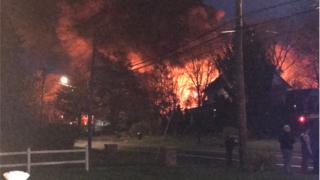 A Connecticut police stand-off over a domestic violence call has led to a deadly blast that left one person dead and nine officers injured, police say.
Police said they were negotiating with a man suspected of taking his wife hostage when an explosion went off, destroying a barn on the property.
The officers were taken to hospital with non-life threatening injuries and the woman escaped before the blast.
As of early Thursday, the suspect was not in police custody, officials say.
Police said at a news conference on Thursday that they found human remains on site, but no identification has been made.
The suspect had been reportedly holding his wife hostage for three days in North Haven, a suburb 5 miles (8km) from the Yale University campus in New Haven, Connecticut.
North Haven Deputy Police Chief Jonathan Mulhern said the woman who alerted authorities "was not in the home at the time of this incident".
The Hartford Courant reported that officials said the woman, who had filed for divorce last month, told police she had been held captive for several days and managed to escape her home.
Police responded to the house, where they found the man had barricaded himself inside.
"Over the course of a couple hours our officers were trying to coax the gentlemen out and defuse the situation," First Selectman Michael Freda, a town official, told the newspaper.
Some officers were searching the property during negotiations and appeared to set off a powerful explosion when they entered the barn, Mr Freda said.
Yale-New Haven Hospital tweeted on Thursday morning that they received a total of nine patients affected by the barn explosion.
Witnesses said the blast could be felt from several blocks away.
"I felt my house shake," neighbour David DiMartino told the New Haven Register.
"It felt like a bomb went off in my attic."
Another local resident, Nancy Sundwall, told the newspaper: "North Haven shook. I mean everyone heard it. The whole sky turned pitch black with smoke."
The massive blaze continued to burn through Wednesday night until it was extinguished early on Thursday.
Mr Freda described the incident as a "chaotic tragedy" to reporters at the scene.
"We don't usually see these situations here in town," he said.