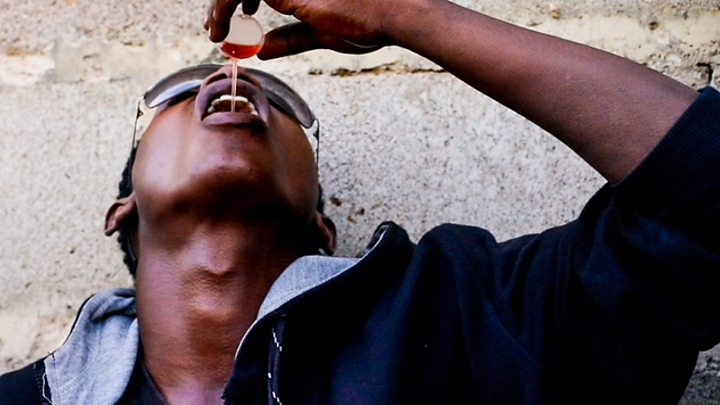 A Nigerian company says it has suspended distribution of its cough syrup after a BBC investigation into its role in an addiction epidemic.
Emzor Pharmaceuticals has also dismissed a company executive who was caught selling 60 bottles of cough syrup to an undercover reporter.
The syrup, containing the highly addictive opioid, codeine, is used by young Nigerians to get high.
The company has promised a "full and thorough" internal investigation.
Secret filming caught the Emzor executive boasting he could sell "one million cartons" in a week on the black market.
The Nigerian Senate estimates that as many as three million bottles of codeine syrup are drunk every single day in just two states, Kano and Jigawa.
But Emzor told the BBC its representative only had access to a very limited amount of its brand of syrup, Emzolyn with codeine, and could not sell large quantities illegally.
The medication is legal, but it is against the law to sell it to people without a doctor's prescription or those who do not have a pharmaceutical licence.
Emzor has now released a statement on Facebook, announcing the suspension and emphasising its commitment to the proper "handling, production, storing and distribution of products containing codeine".
"We hope the findings of the documentary will shed further light on the extent and impact of the illicit trade and consumption of codeine," the statement said. "We hope that full stakeholder engagement will result in impactful action against the abuse, smuggling and faking of drugs on the continent."
Codeine cough syrup – the scale of the problem
Codeine is a pain killer but also an addictive opioid. Taken in excess, it can cause schizophrenia and organ failure
Codeine syrup is commonly mixed with soft drinks and often consumed by students
The codeine is imported, but the syrup is made in Nigeria by more than 20 pharmaceutical companies
Nigeria's drug enforcement agency is fighting this epidemic. In a recent raid, it seized 24,000 bottles of codeine syrup from a single lorry in Katsina
Codeine syrup addiction is a problem across Africa, with reports of addiction in Kenya, Ghana, Niger, and Chad
In 2016, India banned multiple brands of codeine cough syrup following reports of addition