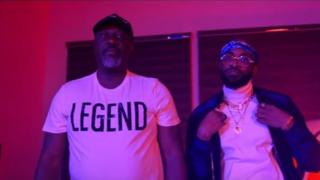 A controversial Nigerian senator is currently in detention at an Abuja hospital after allegedly jumping out of a police van to try and escape custody. The incident is the latest in a series of scandals linked to the colourful politician, Dino Melaye.
The chain of events that led to Mr Melaye's exit from a police vehicle, through its window, began in mid-March.
That month, the police arrested two members of an armed gang. Kabiru Saidu, also known as Osama, and Nuhu Salisu, nicknamed "Small", confessed to taking part in a number of kidnappings and armed robberies. They also accused Senator Melaye, 44, of supplying them with money and weapons – charges he denied.
As a result, the police declared that Mr Melaye was wanted on a charge of supplying illegal arms to his political supporters, and they even said they had asked the international police agency Interpol to issue a warrant for his arrest in case he tried to flee the country.
However, the senator remained at large, his security detail was not removed by the police in the capital, his name does not appear on the Interpol Red Notice site – and he even posted a photo of himself on Instagram shaking the hand of a policeman:
He was eventually arrested at Abuja's Nnamdi Azikiwe Airport international airport on his way to Morocco.
Mr Melaye's team says he was pushed out of the vehicle the following day and that the arrest was politically motivated.
News of his alleged jump, or push, trended on Twitter shortly afterwards.
But this is not the first time Mr Melaye has rocked social media.
The music video
Senator Melaye clearly loves the finer things in life. His Instagram profile features pictures of him posing in designer boutiques wearing bright coloured trainers and tight jeans, or in front of a row of luxury cars.
This opulent lifestyle has on occasion landed him in hot water.
He was criticized late last year after making a cameo in a music video of Nigerian rapper Kach, who also happens to be the son of the country's oil minister, Ibe Kachikwu.
The video for the song, called Dino, features luxury cars, women in underwear, and $100 bills being thrown around. Mr Melaye is also seen stepping out of a sports car, wearing a T-shirt with the word "legend" written on it.
Some Nigerians criticised the senator on social media for the ostentatious display of wealth, particularly at a time when many civil servants in his home state of Kogi were owed several months' salaries.
The dark side
The online newspaper, Sahara Reporters, reported in March last year that Mr Melaye did not have a degree from Harvard University as he had previously claimed. He had only attended a week-long seminar at the elite US university.
Mr Melaye defended himself during a television interview, saying that anyone who had attended an institution and received a certificate was a graduate.
But there is a darker side to the allegations against Mr Melaye.
He first came to public attention in 2010 when as a House of Representative member he was suspended for taking part in a fist fight in the chamber during a move to impeach the then speaker.
In July 2016, during a closed-door session of the Senate, he allegedly threatened to beat up and "impregnate" female colleague Oluremi Tinubu on the senate floor.
Dino Melaye at a glance:
Elected Senator for Kogi West in 2015 for ruling APC party
Fallen out with Kogi state governor Yahaya Bello, also from APC
Allegedly threatened to beat up and "impregnate" a female senator
Accused of making false claims about an assassination plot
Faces recall petition
Nigeria outrage at senator's rap video
Mr Melaye denied saying this, claiming it would be impossible to impregnate Mrs Tinubu because she had gone through the menopause.
Mrs Tinubu later said she forgave Mr Melaye, but added that she would not be intimidated by anybody.
Senator Tinubu is married to the national leader of the ruling All Progressive Congress (APC) party, Bola Tinubu, who is considered one of the country's most powerful politicians.
The assassination plot?
The federal government took Mr Melaye to court earlier this year for allegedly providing false information about an alleged assassination attempt on his life.
In April 2017, Mr Melaye accused Yahaya Bello, Kogi's state governor, of being responsible for a failed assassination attempt on his life. Mr Bello and Mr Melaye are both members of APC, but frequently clash in what many see as a struggle for control of the state.
Mr Melaye has posted videos on social media of himself singing songs taunting the Kogi governor, earning him the nickname of the "singing senator".
His political future
Senator Melaye is currently fighting for his future in politics.
He is challenging a recall of his senate seat after a petition of almost 200,000 voters demanded his dismissal. The petition, which was submitted in July 2017, cited his "poor performance". It also says that the senator is un-reachable, and has distanced himself from his constituents.
But, Senator Melaye argues that the signatures are not from Kogi state voters.
The Independent National Electoral Commission (Inec) says it will proceed with the recall process, and will verify the signatures on the petition.
The results are due to be released in the coming days. This will be followed by a referendum in Kogi, where voters will be able to decide whether he stays or goes.
If he loses the vote, he will be the first senator in Nigeria's history to be recalled by his constituency.
The singing senator may end up singing a much sadder tune.