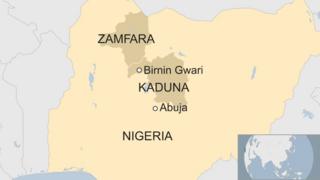 At least 27 people have been killed in northern Nigeria's Kaduna state after an armed gang attacked a village, burning down many homes.
Many of the victims are reported to be members of a self-defence vigilante group, which was set up to defend villages in the area.
The group was formed after a spate of attacks blamed on well-armed cattle thieves.
Survivors are calling for the military to be deployed.
Gunmen surrounded Gwaska village in the Birnin Gwari area in the middle of the day and then started shooting and setting fire to homes.
President Muhammadu Buhari's government is again being criticised for not doing enough to stop the violence in the area, near the border with Zamfara state.
Last month 14 miners were reportedly killed in an attack by gunmen in the Birnin Gwari area.