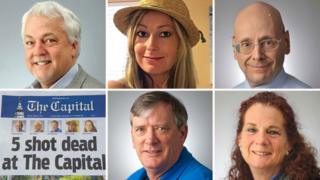 The suspect in Thursday's mass shooting at a Maryland newspaper office barricaded an exit so that employees could not escape, says a prosecutor.
Police earlier told reporters the accused, Jarrod Ramos, was not co-operating with the investigation.
Police found evidence the attack on the Capital Gazette in Annapolis was planned at the suspect's house.
Mr Ramos, 38, appeared in court via video link to be charged with five counts of first-degree murder.
A judge ordered him held without bail during Friday's hearing at Anne Arundel County criminal court.
Wearing blue detention clothes, the suspect reportedly said nothing but watched the proceedings attentively.
Speaking at the White House on Friday, President Donald Trump expressed his condolences.
"This attack shocked the conscience of our nation and filled our heats with grief," he said.
"Journalists like all Americans should be free from the fear of being violently attacked while doing their job."
Investigators say he had a "long-standing grievance" with the newspaper.
The defendant had sued the Gazette for defamation over a 2011 column that reported on his guilty plea to criminal harassment of a woman over social media, but he lost the case in 2015.
In the harassment case, Mr Ramos reportedly received a 90-day sentence but avoided jail time and was ordered to get therapy.
The victims were Wendi Winters, 65, editor and community reporter; Rebecca Smith, 34, sales assistant; Robert Hiaasen, 59, assistant editor and columnist; Gerald Fischman, 61, editorial writer; and John McNamara, 56, reporter and editor.
Two other people who hurt by broken glass, according to officials.
Prosecutor Wes Adams said during Friday's news conference that the defendant was a "danger to our community".
"We brought to the judge's attention the evidence that suggested a co-ordinated attack," Mr Adams said.
"The barricading of a back door, and the use of a tactical approach in the hunting down and shooting of the innocent victims."
Mr Adams said Mr Ramos "entered through the front door and worked his way through the office" during the attack.
He also said there was "one victim who attempted to escape through the backdoor and was shot at that point".
Also on Friday, Anne Arundel County police chief Timothy Altomare said authorities had found evidence at Mr Ramos' residence "showing the origination of planning".
He was asked by reporters how the suspect was able to buy a firearm despite having been convicted of harassment.
Mr Altomare said only those convicted of serious crimes and certain misdemeanours were banned from buying guns in Maryland.
The police chief said Mr Ramos had made threatening comments online in May 2013 against the Gazette.
But the newspaper had declined to pursue charges, not wishing to "exacerbate" the situation, he added.
Police said they sued facial recognition technology from the Maryland Image Repository System to identify the suspect.
Maryland is one of several US states that provides the FBI with access to its drivers' licences, police mug shots and other prison records.
Civil liberties advocates have said the system jeopardises innocent citizens' privacy.