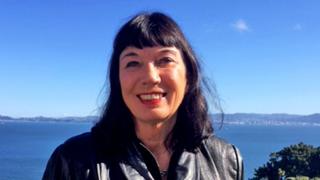 A former sex worker who led a successful campaign to decriminalise prostitution in New Zealand has been made a dame in the Queen's Birthday Honours list.
Catherine Healy, 62, was recognised with an Order of Merit for services to the rights of sex workers on Monday.
She was instrumental in bringing about a new law in 2003, which gave full employment rights to sex workers.
"I was startled when this was offered," she told the BBC. "I'm in shock."
"I think even a few weeks ago I wouldn't have thought this was possible. It's indicative of a shift in people's attitudes and it's lovely to feel supported."
Ms Healy worked as a primary school teacher before becoming a sex worker in the 1980s.
She says she was shocked at the lack of protections in place, especially after coming from the unionised profession of teaching.
"We were spoken about as young sex workers in a disrespectful way," she said. "We needed to find our voice and we needed to be understood."
In 1987, Ms Healy formed the New Zealand Prostitutes Collective (NZPC), which advocates for sex workers' rights.
The group was at the forefront of a long campaign to decriminalise sex work in the country and argued that doing so would make the profession safer.
It helped draft the Prostitution Reform Act, which was passed in 2003 and allowed brothels to operate as legitimate businesses.
The law also meant sex workers were subject to ordinary employment and health-and-safety rules.
Ms Healy describes her honour as "very significant" but believes there is still work to be done.
"There is still a stigma around sex work," she says.
"I think other countries should look at New Zealand. We should have a vision, it's about not ostracising and making [sex work] more dangerous."