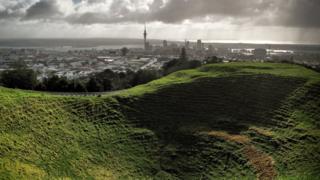 A bicycle belonging to a cycle hire scheme in New Zealand has been found at the bottom of a crater of a dormant volcano.
The New Zealand Herald says that the bike, belonging to Auckland's OnzO scheme, was spotted on Mount Eden (or Maungawhau in the Maori language) by a local who was out taking a walk.
Mount Eden is Auckland's highest natural point, and last erupted some 28,000 years ago. While there's absolutely no danger from volcanic activity, a photographer from the Herald said that "the area was muddy and slippery and it would have taken a lot of effort to get the bike down there and [to] get back up".
OnzO spokesperson Min Kyu Jung was less than impressed with the find, saying "Obviously we discourage people from leaving bikes where they shouldn't be".
It's not the first time that OnzO have run into problems recovering abandoned bicycles. According to the Stuff news website, staff have had a task recovering the distinctive black and yellow single-speed bikes from the harbour, up trees, and over the internet where they have been listed for sale.
Unlike other urban bicycle hire systems, OnzO's bikes do not rely on docking stations, but require a phone app to unlock the cycle's rear wheel, meaning they can be picked up or dropped off anywhere.
Speaking in the weeks after the service's launch late last year, OnzO's Bruce Qin said that teething troubles – such as people "hoarding" bikes or leaving them in difficult-to-reach places – were being ironed out.
"As a new thing into the country, OnzO has patience for people to learn the concept of 'shared'," Mr Qin said.
But, according to the NZ Herald, patience with pranksters is wearing thin, with the company planning to cut off access to the bikes to people who abuse the system.
Reporting by Alistair Coleman
Next story: Zuist religion hopes to build temple in Iceland
Use #NewsfromElsewhere to stay up-to-date with our reports via Twitter.