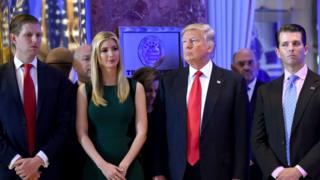 New York's attorney general announced on Thursday she was suing the Trump Foundation, as well as Donald Trump and his children, alleging "extensive and persistent" lawbreaking.
Barbara Underwood said the charitable foundation had engaged in "unlawful political coordination" designed to influence the 2016 election.
The lawsuit seeks to dissolve the foundation, Ms Underwood said.
Also named in the suit were Mr Trump's children, Ivanka, Eric, and Donald Jr.
In a statement, Ms Underwood said Mr Trump had illegally instructed his foundation to provide support to his presidential campaign by using the foundation's name and funds it raised to promote the campaign.
The lawsuit alleges that the foundation paid $100,000 to settle legal claims against Mr Trump's Mar-A-Lago resort, $158,000 to settle claims against one of his gold clubs, and $10,000 to purchase a painting of Mr Trump to hang at another of his gold clubs.
The purchase of the painting was an example of one of "at least five self-dealing transactions", the statement said, which violate tax regulations on non-profit charities.
Donald Trump hit back at the lawsuit on Twitter, saying that "sleazy New York democrats" were "doing everything they can to sue me on a foundation that took in $18,800,000 and gave out to charity more money than it took in, $19,200,000. I won't settle this case!…"
The lawsuit seeks to ban the president from serving as the director of any New York non-profit for 10 years, and seeks similar one year bans for each of his children, who serve on the foundation's board.
'A new front opened up'
Anthony Zurcher, North America reporter
New York Attorney General Barbara Underwood has opened a new front in the ongoing criminal investigations into Donald Trump and his empire. Allegations of misdeeds connected to the Trump Foundation had swirled during the 2016 presidential elections, but the topic had been overshadowed during the early days of the Trump presidency. That may be about to change.
Administration officials, from the president on down, will certainly attempt to brand this as yet another politically motivated investigation of an ideological adversary – new witches but the same hunt.
Nevertheless, as New York attorney general Ms Underwood has significant investigatory and prosecutorial power – and if she starts flushing the bushes of some of Mr Trump's more questionable charitable activities, there's no telling what she might turn up.
At the very least, it appears the Trump world's celebrations of former Attorney General Eric Schneiderman's disgrace were a bit premature. Ms Underwood may not be as outspokenly anti-Trump as her predecessor, but she appears to be equally – or more – aggressive where it counts, in courtroom.