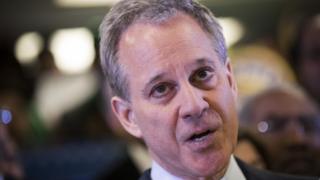 New York Attorney General Eric Schneiderman has resigned following allegations of assault by four women.
The resignation came after The New Yorker magazine published a report quoting the women who accused Mr Schneiderman of hitting them.
Two identified themselves as former girlfriends of his.
Mr Scheiderman – who contests the allegations – has been a vocal supporter of the #MeToo movement against sexual harassment.
"In the last several hours, serious allegations, which I strongly contest, have been made against me," he said in a statement late on Monday.
"While these allegations are unrelated to my professional conduct or the operations of the office, they will effectively prevent me from leading the office's work at this critical time."
New York Governor Andrew Cuomo had called for Mr Scheiderman's resignation, following the reports.
"No one is above the law, including New York's top legal officer," he said. "I do not believe it is possible for Eric Scheiderman to continue to serve as attorney general."
As New York State's chief prosecutor, Mr Scheiderman brought legal action against film mogul Harvey Weinstein in February after dozens of allegations of sexual abuse were made against him.
The lawsuit alleged that Mr Weinstein abused female employees and made verbal threats to kill staff members.
After announcing the lawsuit, he spoke out in a tweet against sexual harassment and intimidation.