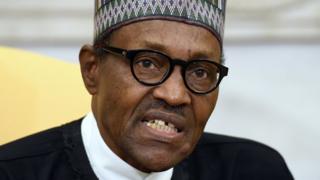 Nigeria's main opposition People's Democratic Party (PDP) has formed an alliance with dozens of other parties in a bid to defeat President Muhammadu Buhari in next year's election.
The coalition, including a faction of the governing party, plans to field a single candidate.
They say they want to "rescue the nation from further decline".
Mr Buhari, whose first term has been blighted by ill health, says he will run in 2019.
A similar coalition of opposition parties, which backed Mr Buhari, was largely responsible for the defeat of then-President Goodluck Jonathan in the 2015 elections, says the BBC's Ishaq Khalid in the capital Abuja.
Many serving senators, members of the lower house of parliament and some state governors are believed to be behind the new movement, our reporter adds.
The 39-party alliance, called the Coalition of United Political Party, says it wants to form a government of national unity.
One of the leaders of the breakaway faction of the ruling All Progressive Congress (APC), Buba Galadima, described Mr Buhari's presidency as "a monumental disaster", AFP news agency reports.
The government is currently dealing with security challenges on several fronts.
It has been praised for the way its dealt with the Boko Haram Islamist militants in the north-east, but the growing violence between farmers and pastoralists in the country's middle belt has become a major concern.
On the economic front, Nigeria went through a recession in 2016, but has experienced modest growth since then.
The president's supporters say his agricultural reforms, infrastructure investment and the current rise in global oil prices are helping boost the economy.