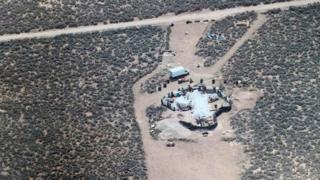 The remains of a young boy have been found at a remote desert compound in New Mexico, police say.
They made the announcement the day after rescuing 11 malnourished children who were being held at the site.
They had originally raided the compound in search of a missing four-year-old boy, Abdul-Ghani Wahhaj. Abdul-Ghani's father, Siraj Wahhaj, was arrested.
Taos County Sheriff Jerry Hogrefe said the authorities were awaiting an identification of the remains.
Mr Wahhaj was detained along with another man, Lucas Morton. Both of them face several charges of child abuse.
Three women were also arrested, according to a Taos County Sheriff's Office post on Facebook.
Sheriff Hogrefe told ABC it appeared the women and children "were brainwashed and feel great intimidation from the men that were in control of this facility".
The 11 children, aged between one and 15 years old, have been taken into care by local social services.
Abdul-Ghani reportedly disappeared from Clayton County, Georgia in November last year.
The boy turned four on Monday.