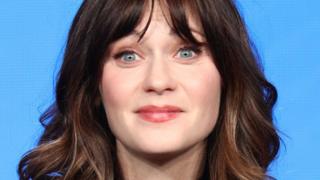 Think back to 2011. William married Kate. Adele released 21. Rebecca Black helped the world truly appreciate Fridays.
But it was also the year one new TV show caught the imagination of twenty-something housemates everywhere.
Zooey Deschanel was still riding high from the success of 500 Days of Summer – the film that became a cult hit and cemented her as a star – when the first episode of New Girl premiered on Fox.
On Tuesday evening, the show came to an end in the US with a two-part finale to its seventh season.
"I'm very proud of having done such a huge volume of television," Deschanel told Deadline. "But it was definitely time to move on to other things.
"It's bittersweet because I miss all my friends, and I loved everybody that I worked with so much."
***Spoilers below***
Last week, viewers saw Nick (Jake Johnson) finally propose to Deschanel's character Jess.
For its two-part series finale, the show fast-forwarded to the wedding itself.
In its verdict on the finale, Vanity Fair wrote: "Given that the writers knew they had eight full episodes to wrap up the series, it's baffling that most of the mini-season would be given over to silly misadventures (Cece gets locked out of her daughter's day care!) only to squeeze all the milestones into half of an hour-long finale."
But the review added: "It's something of a relief for those of us in the baby-heavy Instagram phase to see these characters, whose 20-something exploits always felt like a TV-enlivened version of our own, continuing to be funny and loving even when they have mortgages and promotions on the line."
The show's grand finale saw Winston play a prank – something he's well known for doing in the series – on Nick and Jess.
But not your average prank. This was one of the most elaborate pranks ever pulled off by the show's self-proclaimed Prank Sinatra.
Winston spent the last episode packing Jess and Nick's stuff into boxes and sending them a fake eviction notice, warning the pair they finally had to leave the loft.
Only once they began loading the moving truck did Winston reveal he was behind the whole thing, and they didn't have to move after all.
But Nick and Jess didn't move back into the loft, even when it transpired that they could.
In their heads, they had already left, so they moved out as planned. It was a fitting and touching way to end the series, many critics said.
"If you would've polled any of the characters, asking if Winston could ever pull off such a delicate, crucial twist, none of them would've bet money in his favour," said IndieWire.
"New Girl did the improbable: It ended with a twist and was better for it. Bravo, Prank Sinatra. Bravo."
At its peak, the show regularly pulled in more than seven million viewers in the US.
In the UK, the series finale will air on E4 later this year.
Looking back on the show's last seven years, Vulture described it as "low stakes, low concept, fairly episodic – while maintaining a level of comedy that still appealed to urbane, nerdy, pop-culture-savvy types.
"New Girl is infinitely rewatchable – perfect for a lazy Sunday afternoon or summer Friday when it's too hot outside and you've decided you've talked enough for one week.
"And Jess will be there and Schmidt and Nick and Winston (particularly after they figured out how to write him) and Cece (particularly after they figured out how to write her) and they'll never stop treating the smallest things in the world as the biggest deals."
---
Follow us on Facebook, on Twitter @BBCNewsEnts, or on Instagram at bbcnewsents. If you have a story suggestion email entertainment.news@bbc.co.uk.