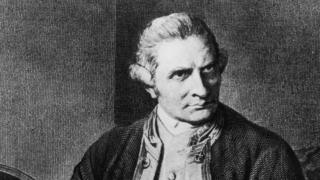 Australia's plans for a new monument to mark the arrival of colonists have divided opinion.
The A$50m (£36.2m/US$68.9m) plans are for Botany Bay in Sydney, the spot where British explorer Captain James Cook first landed in 1770.
Australia Treasurer Scott Morrison said it would be "a place of commemoration, recognition and understanding of two cultures and the incredible Capt Cook".
But Aboriginal activist Pastor Ray Minniecon said the idea was upsetting.
"It's still an invasion and it's still an unwanted invasion," he told Reuters news agency by telephone.
Captain Cook and his crew on the ship Endeavour landed in Australia for the first time on 29 April 1770, encountering Aboriginal people for the first time.
The redevelopment would be built by 2020, in time to mark the 250th anniversary of the landing.
Plans include refurbishing an existing statue of Captain Cook, building an aquatic monument, a new visitor centre, cafe, exhibition space and ferry wharves.
"This was the first encounter between Europeans and Aboriginal Australians here on the East Coast (and) what this offers us is the opportunity to show the view from the ship and the view from the shore," Prime Minister Malcolm Turnbull said.
Contested histories
In recent years, there has been much public debate in Australia about the necessity of historical monuments that enshrine contested histories.
Several statues to Captain Cook have been vandalised in the last year.
A statue of Captain Cook in Sydney's Hyde Park was vandalised in August 2017.
The statue says that he "discovered this territory" even though Aboriginals had already lived there for 60,000 years.
It was spray-painted with the words "change the date" and "no pride in genocide".
Prime Minister Turnbull condemned the vandalism as a "cowardly criminal act" and warned of the dangers of "Stalinist" attempts to turning historical figures into "non-persons, banished not just from life's mortal coil but from memory and history itself".
Ahead of Australia Day in January 2018, a statue in Melbourne was found covered in paint.
Graffiti on the statue depicted an Aboriginal flag and the word "We remember genocide", which the Australian government said was "disgraceful".