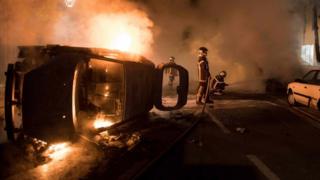 Groups of youths have clashed with police in France's western city of Nantes after a man was shot dead by police during a roadside check.
On Tuesday night, protesters burned cars and threw petrol bombs at the police, who responded with tear gas.
The full circumstances in which the 22-year-old driver died earlier on Tuesday are being investigated by police.
Police say an officer shot the man after he had refused to comply with orders and had hit another officer.
The man – who has not been identified – was taken to hospital but died soon afterwards.
An arrest warrant had earlier been issued for the man on suspicion that he was involved in organised robbery, France's BFMTV reports.
Police reinforcements are now expected in Nantes to prevent any further violence.