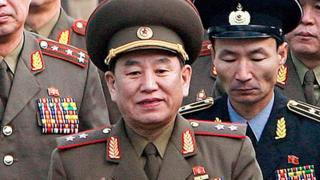 One of Kim Jong-un's most senior officials is thought to be travelling to the US, as preparations for a possible historic summit gather pace.
South Korean news agency Yonhap said Gen Kim Yong-chol was due to arrive in the US on Wednesday, via Beijing.
If confirmed, the visit would be part of a flurry of activity ahead of the proposed meeting between Mr Kim and US President Donald Trump.
The meeting was thrown into doubt after Mr Trump pulled out last week.
But both sides have been working to get the summit – scheduled for 12 June in Singapore – back on track.
It would be the first time a North Korean leader has ever met a sitting US president.
Gen Kim was scheduled to fly to New York on Wednesday, after speaking with Chinese officials in Beijing, Yonhap reported, citing diplomatic sources.
He would be the most high profile North Korean official to visit the US since 2000.
The apparent introduction of Gen Kim to negotiations would be significant, as it would underline North Korea's desire to ensure the talks go ahead.
A former spy chief, he has been part of recent high-profile diplomatic overtures by the North.
The influential figure is regularly seen at the North Korean leader's side and has attended meetings with the leaders of China and South Korea, and met with US Secretary of State Mike Pompeo in Pyongyang.
In February, he was sent to the closing ceremony of the Winter Olympics in Pyeongchang, where he sat close to Mr Trump's daughter and adviser, Ivanka Trump.
Also on Tuesday, a "pre-advance" team from the US was due to meet North Korean officials in Singapore, said US officials.
It follows a weekend of busy diplomacy, headlined by a surprise meeting between South Korea President Jae-In and Mr Kim in the border town of Panmunjom. At the meeting the pair agreed that the North Korea-US summit must be held.
The details of the potential US-North Korea meeting remain unclear, but discussions would address Pyongyang's nuclear programme and ways to reduce tensions on the Korean peninsula.