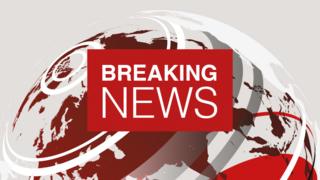 North Korea has cancelled high-level talks with South Korea because of anger over military exercises, state media reports.
The North's official KCNA news agency said the exercises between the US and the South were a "provocation".
It also warned the US over the fate of the historic summit between Kim Jong-un and US President Donald Trump that is scheduled for 12 June.
In March, Mr Trump stunned the world by accepting an invitation to meet Mr Kim.
"We will both try to make it a very special moment for World Peace!" the US leader tweeted at the time.
Some 100 warplanes, including an unspecified number of B-52 bombers and F-15K jets began the Max Thunder drills on Friday.
The US and South Korea insist such drills are purely for defence purposes, and based out of a mutual defence agreement they signed in 1953.
They also say the exercises are necessary to strengthen their readiness in case of an external attack.